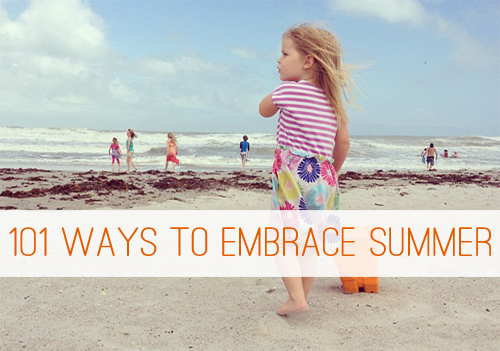 For the past two years, I've had fun compiling and sharing a list of fun, memorable summer activities for the family. We rarely make even a small dent in these lists during the summer, but putting it together always inspires me to be more intentional about our time and to look for ways to embrace the every day and make the little moments count.
This year's list was especially fun for me to put together because our two oldest girls are at an age where we can hand them the supplies and instructions for a project and watch them tackle it on their own, which means we'll probably get to more of these things than we have in the past!
For even more ideas, click these links for the original 101 ways to embrace summer plus last year's 101 MORE ways to embrace summer.
Be sure to check out this week's bundle of the week, which is packed full of summer planning tips, activities and recipes!
Most importantly, remember there's no reason to try to accomplish all of these things this summer; just pick and choose a few favorites and start there:
2. Make whole-fruit popsicles.
3. Go bird watching.
4. Make a set of Angry Bird cans.
6. Have a water balloon spoon race.
7.  Go to storytime at the library.
8. Make leaf crowns.
10. Make a summer bingo board.
12. Make a parade stick.
13. Make a rainbow wind mobile.
14. Eat frozen yogurt-covered blueberry kabobs.
15. Make s'more treats.
17. Make sky jello.
18. Make paper airplanes.
19. Make solar crayons.
21. Go on a nature scavenger hunt.
22. Make one-ingredient ice cream. (Or three.)
23. Build with marshmallows on a rainy day.
24. Make a backyard play tent.
25. Make patriotic fruit pops.
27. Make glue batik tie dye shirts.
28. Make fruit rolls.
29. Make paper dream catchers.
30. Write to a pen pal.
31. Make pinata ice cream cones for the neighborhood.
32. Make accordion envelope books.
33. Make salt art jars.
34. Paint with ice cubes.
36. Grill cinnamon fruit kebabs.
37. Make summer sun art.
38. Turn old keys into a DIY wind chime
40. Learn morse code and make a morse code necklace.
41. Make ice cream sandwiches.
42. Make personalized bubble wands.
43. Serve a Very Hungry Caterpillar snack.
44. Grow your own grass heads.
46. Create your own dinosaur fossils.
48. Make homemade donuts.
49. Paint in the rain.
50. Hold marble races.
52. Make a stick journal for your summer adventures.
53. Race dandelion boats.
54. Make flavored water.
56. Create nature faces.
58. Make an edible snack necklace.
59. Paint a birdhouse.
60. Make balloon rockets.
61. Hold baking school.
62. Make an indoor slide.
64. Make spray sidewalk chalk.
66. Put on a shadow puppet show.
67. Swim in a pool noodle bath pit.
70. Hold soap boat races.
71. Set off a sparkly explosion.
72. Make paper fans.
74. Make star jars.
75. Make homemade musical instruments.
76. Learn origami.
77. Make a DIY catapult.
78. Make refrigerator pickles.
80. Fill a summer treasure jar.
85. Go bowling.
86. Make bite-sized banana splits.
87. Make soap clouds.
88. Make cardboard cars for a homemade drive-in theater.
89. Make a masking tape car track.
90. Take a letter walk.
91. Make a beaded sun catcher.
92. Go fishing in the bathtub.
93. Make fizzing rocks.
95. Make slime.
96. Make a pompom flower bouquet.
97. Play cards.
98. Make chocolate "mud" playdough.
99. Make rockin' robots.
100. Paint with bubbles.
101. Go foraging.
What's on your summer bucket list this year?
Mandi Ehman is the blogger behind Life Your Way. She and her husband have four beautiful girls plus one baby boy, and together they live, work and homeschool on a little slice of heaven in wild, wonderful West Virginia. Mandi loves coffee, chocolate, easy meals, beautiful things and minimalist spaces.