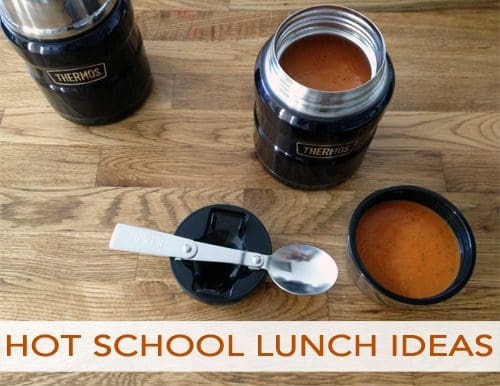 Today I'm sharing 24 hot school lunch ideas over at the Easy Homemade blog, plus a great giveaway from Thermos:
Because we homeschool, we only pack school lunches once a week when we head to our homeschool group…and truthfully? Sometimes I even struggle with ideas for that one day!
Recently, Thermos sent me four of their Stainless King Food Jars to try out for hot school lunches, and I'm so excited to be able to pack some of our favorites — like tomato soup, chili and macaroni and cheese — for lunch instead of peanut butter & jelly sandwiches every week!
The key to keeping food hot until lunch time is to preheat the Thermos before use. Fill with hot water, screw the top on and let it sit for 5-10 minutes while you heat the food. Then fill with hot food and quickly attach lid to keep as much heat in as possible.
See all 24 lunch ideas plus enter to win 4 Stainless King Food Jars.