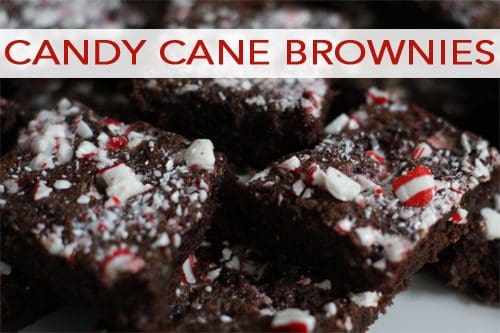 I'm not a huge fan of peppermint, at least not by itself, but I love a rich peppermint-chocolate dessert.
With that in mind, I took my homemade brownie recipe (from Easy Homemade) and doctored it up a bit. The result was these peppermint brownies, and they definitely fit the bill!
Ingredients:
2 cups sugar
1-1/2 cups flour
3/4 cup unsweetened cocoa powder
1-1/4 cups (2-1/2 sticks) unsalted butter melted
3 eggs
1 teaspoon vanilla extract
1 teaspoon peppermint extract
3 candy canes crushed
Directions:
In a medium bowl, mix sugar, flour and cocoa. Add butter, eggs and both extracts and beat for 3 minutes.
Pour into a greased 9×13 pan and bake at 350° for 30 minutes or until a toothpick inserted in the center comes out clean.
Immediately sprinkle crushed candy canes on top and gently press into the brownies.
Let cool for 20-30 minutes before cutting.
Click here to add this recipe to your Plan to Eat account.
Related Projects:
Join us as we celebrate 101 Days of Christmas with new DIY projects, gift ideas, traditions and more every day from now through Christmas!
Mandi Ehman is the blogger behind Life Your Way. She and her husband have four beautiful girls plus one baby boy, and together they live, work and homeschool on a little slice of heaven in wild, wonderful West Virginia. Mandi loves coffee, chocolate, easy meals, beautiful things and minimalist spaces.