It was a good reading week here. I really enjoyed all four of these books, and I had a ton of time to read over the weekend, which was good because I'd only gotten through The Mysterious Benedict Society as of Friday morning!
Head here to see Katie's post for this week.
We also want to know what you're reading! Add your blog post to the linky below or leave a comment with your favorite reads from this week.
(See the full 2013 list here.)
This Week's Reads
Blue Like Jazz by Donald Miller
I wasn't sure I was going to like this book when I started. Donald Miller has a distinct stream-of-consciousness style that got this book rejected by multiple publishers before it was finally published, and the choppiness was a bit distracting in the beginning. That said, I love the content of the book itself, and it only took me a few chapters to get used to his style, which is actually really easy to read. This is a beautiful story about faith in Jesus — a real, life-changing, not limited to a church building faith — and so much of it has spoken directly to me (almost in an eerie way). I'm definitely looking forward to picking up some of Miller's other books this year as well.
Although I love the highlight feature of Kindle books, one of my goals this year is to keep a book of quotes, and because I'm actually borrowing the paperback version of this book I had to go ahead and write the quotes in my journal as I read (instead of just highlighting them and hoping to get to it later), which I really enjoyed doing as well.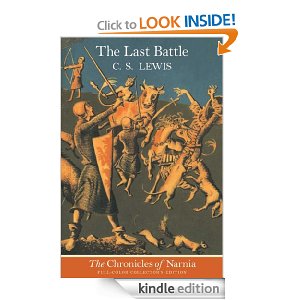 The Silver Chair
and The Last Battle by C.S. Lewis
Ah, I am finally done The Chronicles of Narnia! I really enjoyed both of these last two books (although The Silver Chair felt like it ended rather quickly and kind of caught me by surprise), which are exciting and full of beautiful allegory. I think I highlighted pretty much everything Aslan said in The Silver Chair because it was just so beautiful.
I'm excited to have the girls listen to the audiobooks again now that I've read all seven books so that we can really talk about the symbolism and the lessons in each of them.
The Mysterious Benedict Society by Trenton Lee Stewart
I have this (bad? good?) habit of always reading the negative reviews of a book before I buy it. I'm not often swayed by those reviews, but I like to know what the criticisms are and not just what people like. Most of the negative reviews of The Mysterious Benedict Society (at least on Goodreads) seem to criticize it for being too much like a children's books, which is ironic because it is, in fact, a children's book. In the end, though, I really enjoyed this story. I loved the adventure, the strength of the children's friendships, the commitment to doing right (and the glimpse into the times when choosing to do right was a struggle for them), and puzzles and plays on words throughout the story.
We'll definitely be adding this to our Audible queue, although I'm going to have the girls listen to it in the daytime first rather than at bedtime because there are some scary/tense parts. I probably won't pick them up right away, but I'm looking forward to reading the rest of this series sometime this year as well.
On My Reading List for This Week
This week I have the opportunity to review a few books before they're released next week, and I'm looking forward to switching things up this week since I've mostly been reading children's fiction so far this year (ha!):

Audiobooks
The Fancy Nancy Audio Collection
From Parker (5): "I like that Fancy Nancy speaks fancy and that she's silly. She has a beautiful crown and lots of stuff in her hair. And it helps me know that you can speak fancy."
The Henry Huggins Audio Collection
Dylan (6): "Henry Huggins is a boy who found a dog named Ribsy. His name was actually Dizzy but Henry found him and named him Ribsy. There's different books to go with the stories, like when Ribsy got lost or Henry and the Paper Route or Henry and Beezus. I like that there's a boy named Robert and a new boy they call Murph, and they made a club."
Share Your Reading List
');
// ]]>
Mandi Ehman is the blogger behind Life Your Way. She and her husband have four beautiful girls plus one baby boy, and together they live, work and homeschool on a little slice of heaven in wild, wonderful West Virginia. Mandi loves coffee, chocolate, easy meals, beautiful things and minimalist spaces.