Most of us like the idea of spending more time outside, whether to produce more vitamin D from sunlight exposure or just to get out of the house. However, with busy schedules, it's hard to find time to get outside.
Thankfully, there are many convenient ways you can spend more time outside and take advantage of the benefits that outdoor living has to offer.
Convenient Ways to Spend More Time in the Great Outdoors
These are some of the most convenient ways that you can spend more time in the great outdoors:
1.       Get an outdoor fireplace or fire pit. An outdoor fireplace or fire pit allows you to stay warm in winter, cook food in summer, and have an excuse to host a gathering. You can choose an installation that's visually attractive yet perfectly functional, giving you the excuse you've always wanted to venture outside and stay there.
2.       Go for a walk around the neighborhood. How much time have you spent wandering around your neighborhood? Even if you live in an area without sidewalks, there's tremendous value in walking around the area where you live. You'll get some exercise, some fresh air, and new opportunities to talk to the neighbors, see what's going on, and feel more comfortable in your own home.
3.       Bike to work (or bike while running errands). Do you commute to work? Or are you occasionally forced to run errands? Don't waste time driving. Instead, consider biking. Again, this is a great form of exercise and a perfect excuse to breathe some fresh air. The more you bike, the more your lung capacity and endurance will improve, enabling you to go on further, more challenging rides.
4.       Set up an outdoor office. Do you work from home, at least occasionally? If so, you likely feel trapped indoors because that's where your office or workspace is. But it doesn't have to be this way. You can set up a temporary, fully functional office outdoors if you're willing to make some compromises on space (and wait for a day with good weather).
5.       Plant a garden. If you start a garden that you're truly passionate about, you'll be motivated to go outside almost every day. Even if you have little to no gardening experience, you should be able to grow easy plants like lettuce, cherry tomatoes, and zucchini. Seeds are relatively inexpensive, and you can build your own raised beds with even a minimal investment. You'll get the experience of nurturing your garden consistently over the course of days or weeks, and at the end, you'll have heaps of fresh, nutritious food to enjoy.
6.       Park far away. If you do drive to various locations, make it a point to park far away. This will force you to walk a greater distance to your destination, giving you time to exercise and breathe in the fresh air. It may not seem like much, but this can add up over time.
7.       Camp (in your own backyard if you must). Camping is one of the best ways to enjoy the great outdoors, but we don't always have opportunities to do it. If you can't afford to spend a week away from home, or if there aren't any good camping areas nearby, consider setting up a tent in your own backyard and sleeping there.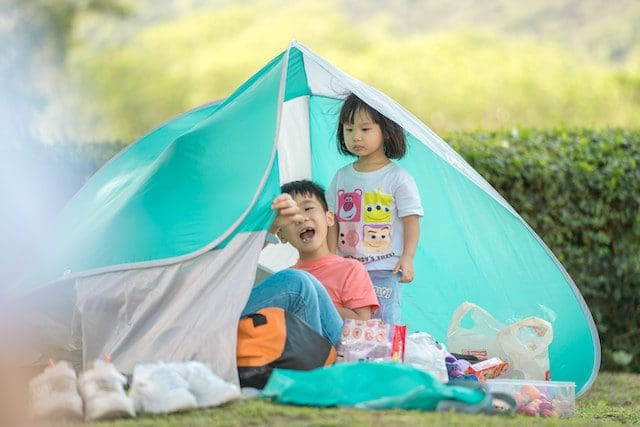 8.       Forage. Foraging is the practice of searching for and collecting greens, mushrooms, berries, and other materials that can be eaten when properly prepared. It's an activity that keeps you stimulated, forces you to enjoy outdoor time, and gives you a chance to cook and eat in new ways. Just exercise caution as a new forager; some species are deadly if consumed and can be easily misidentified as nutritious.
9.       Get an outdoor screen. Do you love movies and TV shows? You don't have to watch them on the couch. If you invest in an inflatable screen and a projector, you can watch all your favorites outside. You can even invite friends and neighbors to enjoy the show with you.
10.   Join a group that meets outdoors. Want more excuses to go outside? Consider joining a group that meets outdoors regularly. For example, you could join a club related to trail running, hiking, fishing, or even rock climbing.
The Benefits of Being Outside
It's hard to overstate the benefits of being outside, especially if you spend time outdoors regularly. Exposure to sunlight can boost your mood and increase your vitamin D intake, better quality air can support better lung health, and you'll have more opportunities to interact with your environment in stimulating and rewarding ways. Even if you don't have much time, you should make being outdoors a top priority. 
Featured Image by sbutterfield from Pixabay