The following post is from Lisa of The Pennington Point: 10 Ways to Be a Great Thanksgiving Hostess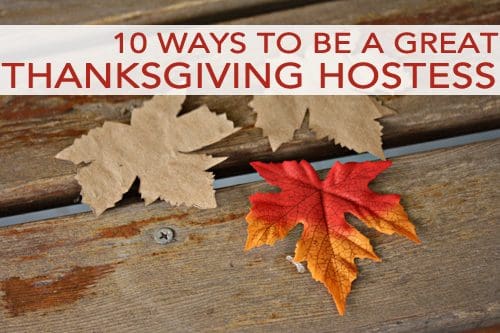 For the past several years we have hosted the Thanksgiving meal in our home.  We invite friends and family to come share the day with us.  It is important to me that my guests feel right at home.  I want them to remember it as a wonderful day and look forward to coming back year after year.
The best way to welcome them is to make them feel at home in your house.  Make sure that they have easy access to food, utensils, and even the trash can.  Decorations, labels and treats go a long way to help guests relax and feel at ease too.
These are some things I do to make sure my guests feel comfortable and special.
1. Put out some simple fall decor.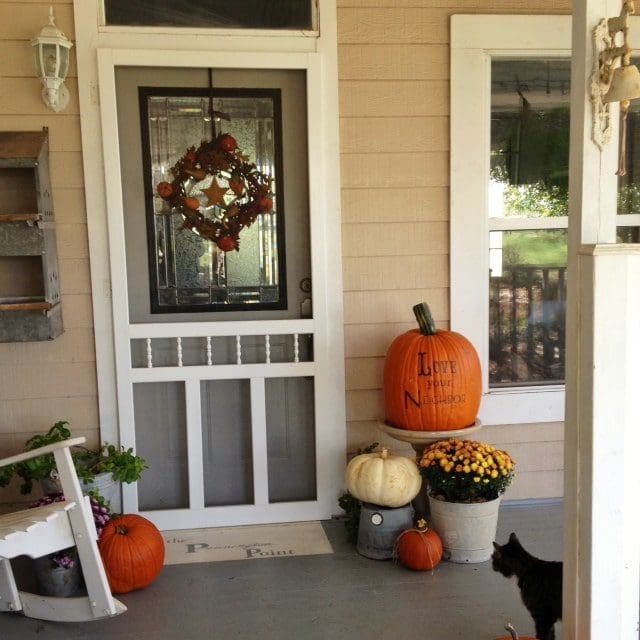 There's nothing like a few pumpkins to say, "Welcome" in the fall.  The orange ribbon on candles, a few throw pillows, and some mums are all affordable ways to make your home feel like fall.
2. Encourage your kids add to the decor.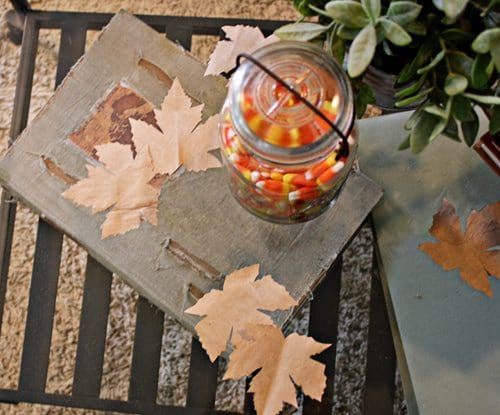 Have the kids make a few Thanksgiving crafts and give them a special spot in the home.  One of those turkeys made with a hand print is not only fun for the guests, it's nostalgic and charming.  I had my kids cut leaves out of paper bags and scatter the leaves around the house.  FUN!
3. Ask your guests to bring a dish or two.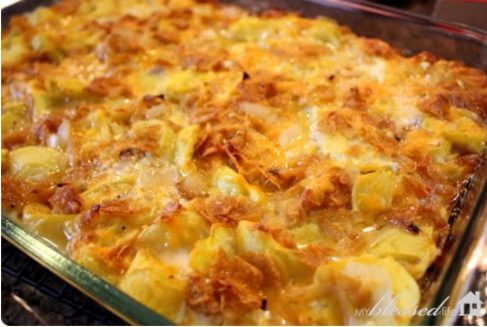 As much as I want to serve my guests, people enjoy helping.  When they ask, "What can I bring?" I will send them a list of the menu.  Then, I ask them to choose something from my menu and also to bring something they like.  We all have Thanksgiving food that if missing, it doesn't seem like Thanksgiving. Don't give me a plate on Thanksgiving without my grandmother's dressing!
4. Add a simple centerpiece to your table.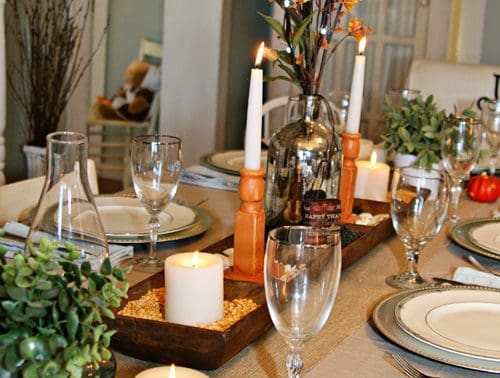 We usually have three or four tables, so the centerpieces can pull it all together.  I like to use inexpensive materials.  Corn, beans, candles, tree branches….you don't have to spend a lot of money to have a lovely centerpiece.  Just be sure to think about it a few days before so you're not scrambling to put it together while you're cooking.
5. Label the food for easy eating.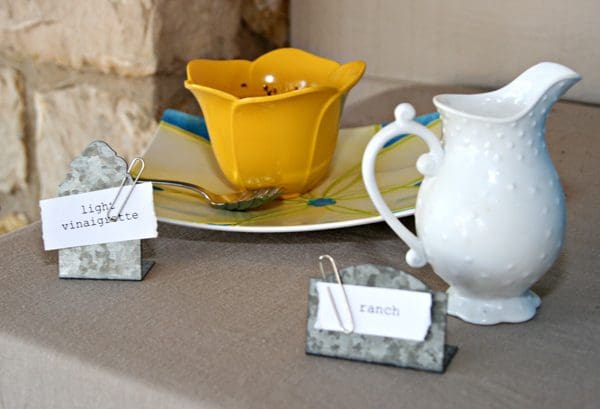 Have you ever been to dinner at someone's house and you couldn't tell what the food was?  Being a picky eater myself, I appreciate it when someone goes to the effort to identify each dish. You can just write down the name of each dish on a piece of cardstock and tent it on the table.  It doesn't have to be elaborate.
6. Use fire to create a warm and cozy atmosphere.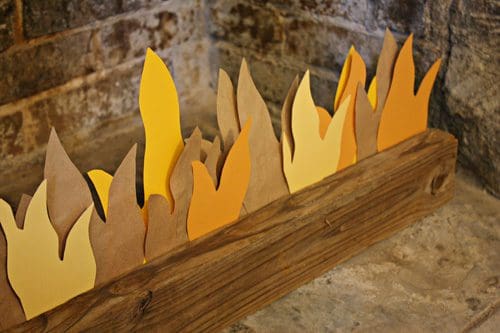 A fire in the fireplace is ideal, but if you don't have a fireplace, or if you're like me in Texas….a fire would make us all feel like we would melt out of our chairs, there are alternatives.  Candles are a nice way to add that warm element.  Another wacky idea, my kids and I made a fake fire with cardstock and a scrap of 2×4.  It's funny how much it makes the room feel all cozy.
7. Have trash cans available.
Right, this seems like a weird tip but it's so true.  After hosting many gatherings and answering the question, "Where is the trash can" about a million times, I have learned to keep a large trash can out in the open.  When dinner is winding down we'll bring a big, outside can lined with a garbage bag into the house.  It's not pretty, but sitting in the corner of the room it can make clean up much easier for everyone.
8. Have after-lunch activities.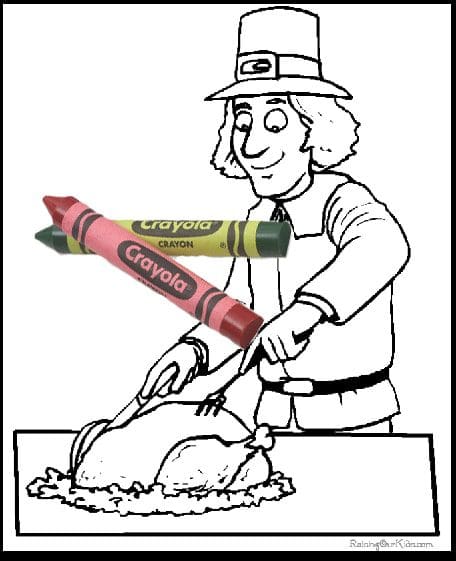 We're not a big sports family and with no TV, our guests can get bored.  So, we make sure to have a variety of games sitting out and some fun things for the kids to do.  I love to print out Thanksgiving coloring pages for the little ones and set out a bucket of crayons.
9. Make it easy to find leftovers.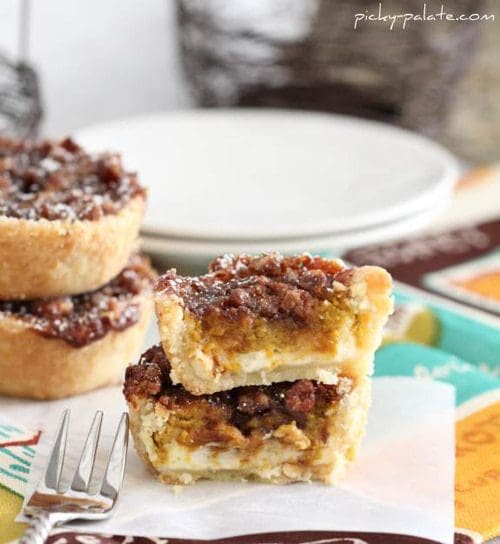 Who doesn't love a piece of pie or two on Thanksgiving?!  I want my guests to feel free to help themselves long after the meal is over.  So I set out all of the non-refrigerated desserts and a note with what's in the fridge.  I set out paper plates, forks, coffee cups and just leave it all day.  Your friends will feel comfortable helping themselves if you make it easy for them.
10.  Send home a little gift.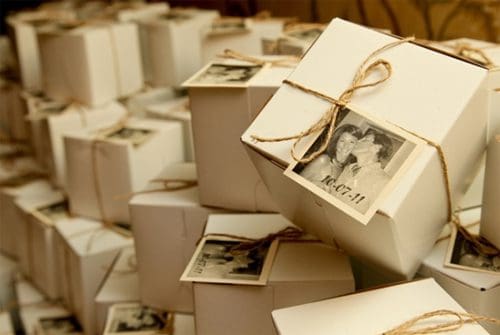 The kids and I love to make take-home packages for our guests.  In addition to containers of leftover turkey and dressing, we make a package of cookies, homemade rolls or maybe a candle.  We package it up the day before so it is ready to hand to guests with a note that the kids made saying how glad we are that they came.
If you're hosting Thanksgiving this year, I hope you'll keep some of these tips in mind.  And if you're going somewhere for the holiday, be sure to help the hostess so she can easily make all of her guests feel welcome!
What can you do to be a great Thanksgiving hostess?

Use our Thanksgiving Planner and use our budget worksheet to help.
Download our free Thanksgiving ebook.
Lisa winds through her little Texas farm house every night, tucking in her nine homeschooled children and turning off lights. Then she scans the rooms & makes a mental list of what she wants to rearrange, restore or paint. Her husband of 25 years hangs on for the ride while she blogs about it over at The Pennington Point.