As summer approaches its end, hordes of freshmen make their way to college campuses for the first time. Filled with excitement and curiosity, ready to approach a new chapter in their life.
Going to college can be a great way for young people to shape their worldviews, create new opinions, see themselves as capable adults, and make friends for life. It's a number one way to connect with like-minded people and share experiences they'll likely remember for a lifetime.
However, adjusting to new college conditions can be quite hard for some. College students can often feel lonely and like they're left all to themselves. One of the most well-known anxiety-inducing questions in college may arise: "How do I make new friends in college?"
If you've found yourself among these lines, or you've asked yourself the question, don't worry! Millions of other students all over the world share your struggles but still successfully put themselves out there – and enjoy long-lasting, fulfilling friendships. You can do that, too.
Here are ten quick steps that'll help you create refreshing new college friendships in no time. 
Get Out There
This might sound obvious, but the number one way to connect with others – is to let them know you exist. This may seem easy at first, but consistently showing up takes some guts. Here are some ideas that can help when you're feeling invisible:
1. Boldly take classes/activities you find interesting
Why is that? Not only because you may love your field. It's also great because you can try and reach out to fellow enthusiasts! You can now use those small talk skills you've practiced, but remember not to overdo it.
If you have online classes, here's a tip. You can jump to this essay proofreading site and make a 'proofread my essay' request to enlist the help of professional writers; it not only helps you get the essay writing job easier and makes submitting it a breeze, but it's also a great opportunity to connect with like-minded people. Some may have a degree in the field you're now pursuing!
2. Don't wait for the perfect opportunity
Why? Because there'll never be one! Time spent waiting for the tides to turn in your favor is better spent by leaving your dorm room and going on a (subtle) buddy searching stroll. 
3. Be yourself
Another big one. People are naturally attracted to those who unapologetically express who they are. Think about it; by being your true self, you can be sure that the people you attract will not try to change you in any way. You'll both be true to each other, which makes the foundation of your relationship solid and secure! 
4. Polish up your small talk
"Where are you from?" or "How come you're studying Math?" are some of the many great conversation starters available. Make sure to practice these in a warm and engaging tone. Ask the more important questions later – and don't forget to polish your listening skills, too! 
Be Brave – And Take the Lead
This one may not be so obvious. Or pleasant. But the belief "If I don't do it, no one else will" has shown to be quite helpful in making new college friends. Here's some advice on how to successfully reach out – and show how assertive you can actually be:
5. Hang out in the college area
Tennis courts, libraries, or even pools if your college has one. As already mentioned, you limit your friendship-creating abilities by spending too much time in your dorm unless you're hanging with your new roommate pals! 
6. Knock, and it shall be opened to you
This one may be like cold calling. It's direct, sometimes uncomfortable – but works! You can try visiting other students in their dorms and ask them to join you when you're studying or simply enjoying a hobby.
7. (Mini) Party time
Another, a bit warmer, approach is organizing a small party in your dorm, but try not to overdo it. Follow college rules, or you won't have to worry about meeting new college friends anymore.
Give Your Part
This part is essential. It makes that step from being simple acquaintances that made small talk a few times at a Leadership class to feeling like friends – much easier to pass.
8. Time for a follow-up
Follow-ups are a terrific way to advance your relationship. How do you do it?
Here are some ideas.
Follow-up your interaction by:
Texting them on social media

Talking to them when you see each other again

A call, if you have their phone number
Another tip is to implement a next-hang idea. You can add the "You can invite your friends, too" suggestion for even more hanging out goodness!
By doing so, you have the next place, time, and more people to meet while you're all doing a fun activity. What a smart move.
9. Rome wasn't built in a day
In other words, practice patience. You may not make all the friends you want overnight, but that doesn't mean you should lose hope. You can look at this process as an exciting adventure, and each day brings new opportunities and challenges for you to grow and change. Be your own buddy during this time.
10. Don't give up
Probably the most important step of this college friendship creation course is this one. Remember not to expect perfection from this; you may have to use the trial-and-error method quite a few times. But by not giving up, you create a great possibility of creating fun, engaging, extraordinary, and true friendships. Your future friend-surrounded self will be more than grateful you didn't call it a day.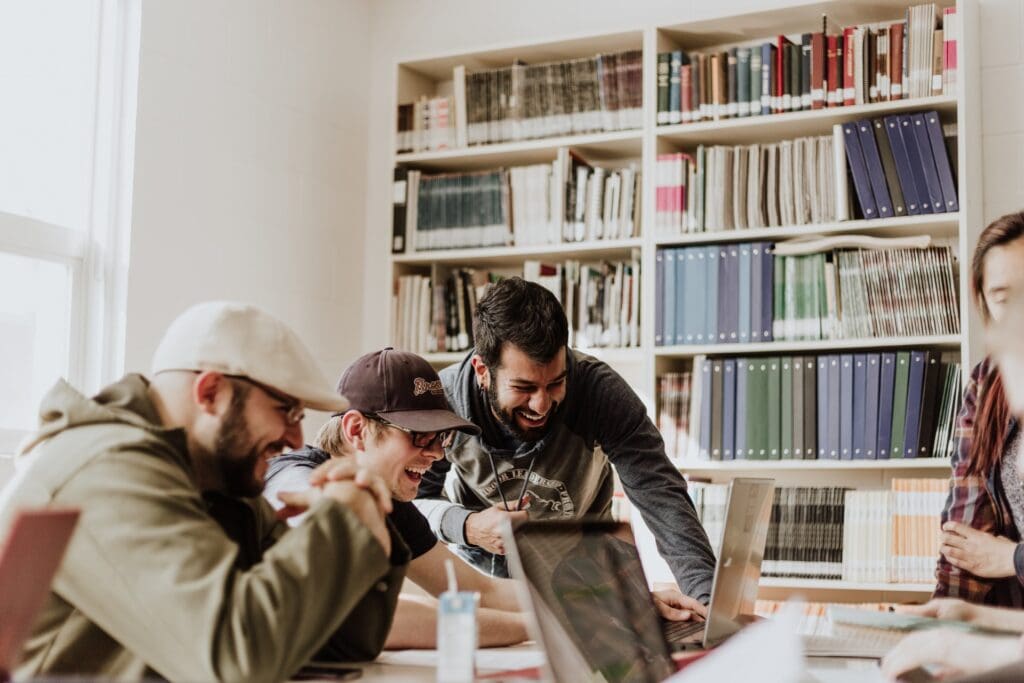 Great Company Is Waiting for You
What to take away: by consistently putting yourself out there, taking the lead, and maintaining relationships, you plant seeds from which many wonderful friendships will spring out.
Keep trying different methods and approaches, and even though it may seem hard, new long-lasting friendships are at bay. If nothing seems to work, who knows. Maybe you'll soon receive a knock at your door.
Featured Photo by Alexis Brown on Unsplash