I love advent calendars — from the classic cardboard cutout with chocolate hidden behind each of the 25 tabs to this handmade felt advent calendar (#8) that I've been dreaming of making for years now!
Last week I shared this fun advent chain printable with you. This week, I have 9 more creative DIY advent calendars to show you. Depending on your style, craftiness and schedule, you're sure to find one that works for your family this year.
Fill them with advent activities, Scripture readings, pieces of chocolate or other little treats for a fun way to celebrate the Christmas season all month long!


There are so many things I love about this advent calendar — the handmade, eclectic look, the hidden storage behind each number and the chocolate hiding inside! If you're feeling crafty and want to create a set that reflects your personality and style, this set can be customized without limit. Use different scrapbook paper and embellishments to create any style your heart desires!
Source: Refrigerator Magnet Advent Calendar | Narrating Life

This cute countdown garland is simple to make and adds a special touch to your holiday decor as you countdown the days until Christmas with activities for the whole family. I especially like that it would be easy for Mom to change the order of the cards throughout the season, if necessary, and no one would be the wiser!
Source: Christmas Countdown Garland | The Crafting Chicks

I'm not sure this advent calendar would actually work in my house since my kids would never be able to resist the urge to peek into the upcoming buckets, but it's a super cute design that might work better with older kids or something less tempting like project supplies in each bucket.
Source: Bucket Advent Calendar | Infarrantly Creative

I envy people who are able to look at a mishmash of supplies and come up with something beautiful, like this pocket advent calendar. If you're one of those people, this is a great way to use up some of your orphan supplies and other miscellaneous "junk"!
Source: Advent Calendar from Scraps and Junk | Kimberly Petersen

Here's another magnetic advent calendar, but this one uses just one size tin and matching number labels (printable included!). To be honest, while I love the first set, this one reflects the way my type-A mind works a bit better — all matching and even and whatnot!
Source: Magnet Advent Calendar | Twig & Thistle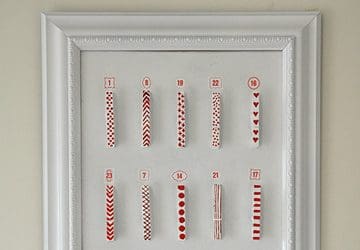 I think this may be my favorite find. It's an easy enough project that even I could pull it off, and it's straight lines and striking colors would fit well with our decor. It seems like the simplest of all of these — both the project itself and the final look — like a bit of peace in the midst of an otherwise crazy season. I could see hanging little love notes, quotes, Bible verses or advent activity prompts from each one!
Source: Clothespin Advent Calendar | Visual Heart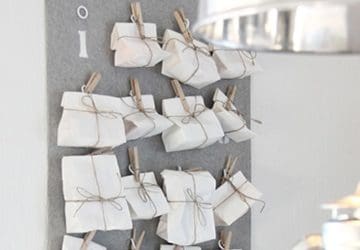 Here's another simple, neutral calendar. I love the cute little packages wrapped in white and twine, and you could get creative with this style and various colors — burlap and red ribbon, anyone? There's no tutorial for this project, but it looks easy enough to pull off without one!
Source: Simple Advent Calendar | Emmas Designblogg

As I mentioned in my intro, I first fell in love with advent calendars a couple of years ago when I saw this embroidered felt calendar tutorial from Purl Bee. It's gorgeous and colorful…and a bit much for my limited sewing skills. Nevertheless, it remains one of my favorites, and if you are willing to try, there are detailed step-by-step instructions to walk you through this project!
Source: Embroidered Felt Advent Calendar | Purl Bee
Source: Baby Sock Advent Calendar | Martha Stewart