Have you started thinking about your 2011 Christmas card? I love — love — to receive photo cards in the mail at Christmas time, and we display them all along our banister to enjoy throughout the Christmas season.
Typically, we send whatever family photo we manage to get, perfect or not, but there are so many creative family photo ideas out there that I'd love to be more intentional about getting a really fun and quirky photo this year!
Pinterest — and the internet as a whole — offers a wealth of inspiration and here are some of my favorite family photo ideas. I'd love to come up with our own spin on #3!
Even if Mom & Dad don't want to move, jump, whatever, you can get a fun photo by having the kids jump while the rest of the family looks on. Definitely more interesting than everybody sitting in a row!
Source: Elizabeth Halford
I have a feeling this is a really fun family, and this Christmas photo is adorable. I like quirky, and sitting on a red couch in the middle of the backyard in your pajamas fits the bill perfectly!
Source: All We Need is Amor
I love this photo for so many reasons, not the least of which is that you only have to get one person to cooperate at a time! With basic Photoshop skills, you can make a picture within a picture (I've also seen the parents holding a traditional frame with a photo of their kids inside) for a fun photo that makes people look twice!
Source: Threaded Together
Or use an empty frame to frame some or all of your family members in the actual photo. A variation of this idea is to have the parents hold the frame with the kids grouped behind it in the background.
Source: Combined Average
Here's another really fun Christmas card idea, where you take individual photos of each member of your family responding to various prompts and then line them all up. It's a peek inside their personalities!
Source: Justin Hackworth
This is a gorgeous photo, not just because of the posing but also because of the colors and effects on the photo. But as far as posing goes, laying down is a fun way to capture everybody without worrying about whether they're looking directly at the camera and it may — temporarily — help with kids who can't seem to stand still for other poses!
Source: Pieces of Me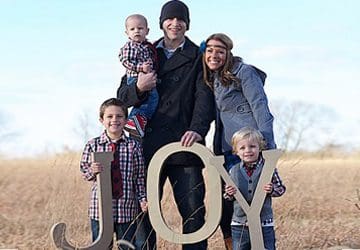 These big letters are the perfect prop for the family to gather around! You could also spell out your last name or choose another word that's meaningful to you. (Be sure to click through to see their other "prop" as well, an adorable little donkey!)
Source: The BMC Report
This is such a sweet photo, and like the previous one, holding a banner allows you to share a message as part of your photo. I think it would be adorable with several children holding the banner as well!
Source: A Bryan Photo
For an engaged or newlywed couple, a candy cane heart is the perfect focus for a Christmas card sharing their love! Cute, right?
Source: Meadowbrook Farm
Join us as we celebrate 101 Days of Christmas with new DIY projects, gift ideas, traditions and more every day from now through Christmas!