Today, we are dependent on the latest, most innovative devices to help us with our daily activities. We just can't help but be concerned about keeping those gadgets—tablets, smartphones, cameras, laptops—up and running, whether we are exploring the outdoors or detoxing from the internet. 
Besides, you don't want to miss that beautiful sunrise or that stunning sunset. It's good to know that there are plenty of ways to keep your devices charged, no matter where you are. Whether it's raining, sunny, hailing, or windy. Here are some tips for staying powered up when you're outdoors
How Do You Charge Your Phone While Camping? 
The thought of camping can make anyone giddy and make them miss charging their phones. Technology-dependent campers face this issue frequently. Fortunately, finding ways to generate electricity in camping has never been this easy—again, thanks to technology. Whether your phone is fully charged or fully drained from taking winning pictures, you can instantly recharge it with these simple, convenient, and proven ways: 
Portable Generators
For complete power source reliability, portable camping generators are your best option, especially if you'll be out for a longer time. This on-demand and stable power source work with any climate, season, or location. Most portable camping generators are geared with certain conditions and user requirements. 
For campers who'll stay outdoors for a longer time, either for pleasure or work

Who owns RVs, motorhomes, or campervans?

For outdoor enthusiasts that require all-day access to a reliable energy source

As a power backup for cabins and cottages
Most portable generators are gasoline-fueled, so carrying and accessing extra fuel is conveniently accessible and straightforward. Camping generators provide a direct approach to the power supply by pulling a starter cord or turning the switch to begin providing energy supply. 
While they are compact, one major setback is that they can be noisy at times. That is why using them on crowded campsites can be a challenge and limited. 
Solar Panel Chargers
Solar panel chargers are an excellent choice as you'll be investing wit renewable and safe energy. It's a passive way to recharge and power up your devices while outdoors, camping, and exploring the beauty of nature. Varying on the panel's size, you can use it to charge several devices or batteries simultaneously. 
Similar issues with power banks, you have to be wiser when using solar-powered chargers or never underestimate the power capacity it produces. They work efficiently with direct and bright sunlight, which means you need to place them in an area where the sun hits the panels all day (or as required) to achieve optimum power potential. 
In several cases, like the winter seasons, these panels may challenge collecting solar energy under direct sunlight, affecting its power capabilities to charge your equipment.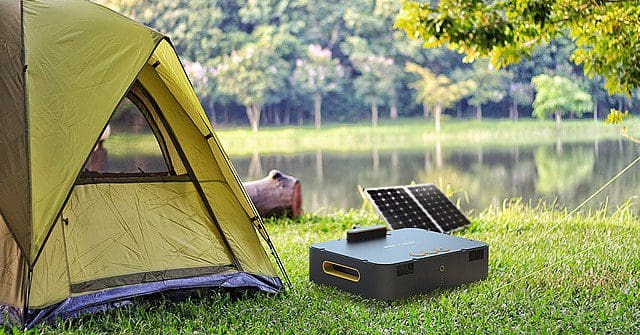 Portable Power Banks
For RV camping, accessing your power source can be easy with your chargers on the side; backpacking with limited camping gear and essentials is a challenge. This is where taking along a portable power bank can save you from complete frustrations. Most portable power banks come with higher capacities ranging from 5k mAh to 30KmAh. 
While power banks can recharge your phones several times, they are only as good as long as they have power. Once wholly depleted, they'll be good for nothing, especially if you'll be going for more than a day hike in the wilderness. Dual power banks may be your next option, something you can recharge using solar energy. 
Alternatively, bringing forth several power banks can increase the load and weigh you down too. That is why it's vital to charge only whenever needed and for essential items alone. 
How To Reduce Phone Battery Consumption
While relying on a quick energy source to recharge your devices, especially your phone, there are several ways to reduce power consumption when outdoors. Here's a quick rundown: 
Turn your phone off.

Power saving mode is vital.

Reduce the screen's brightness.

Update the applications.

Turn the connectivity features off, i.e., data, WiFi, and Bluetooth.

Send SMS instead of calling.

Turn all notifications off.

Be wary of the temperature outdoors.
Final Words
Going remote and disconnecting from the world is one of the benefits and drawbacks of camping. For most, access to power sources is a challenge, especially for newcomers to the camping scene. On occasion, we may have to rely on on-demand energy sources, whereas sometimes we may use passive processes.  
Thankfully, there are a variety of options that can help. While each of the options listed above offers its distinct benefits and drawbacks, it is up to the campers to determine which one suits their power needs, consumption, and preference. Planning a camping trip? Head over to theexpertcamper.co.uk/blog/places-to-visit/best-campsites-in-yorkshire-to-visit for more places to visit.
Featured Image by chulmin park from Pixabay