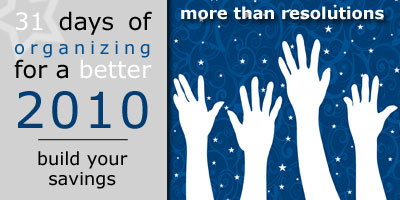 Join us all month for 31 Days of Organizing for a Better 2010!
Over the past couple years, the economy has wreaked havoc on millions of families' financial stability. Layoffs, the housing bubble and reduced spending have impacted many, many people and illustrated the importance of having money in savings for times such as these.
I know one of our goals in 2010 is to continue to build our savings. Here are some ways to get disciplined and grow your savings account this year:
1. Set up automatic transfers to your savings account.
If you wait until all the bills are paid and everyone has spent what they want to spend in a pay period, there won't be any money left for savings. Instead, set up your direct deposit to put a certain amount in savings or use automatic transfers to move money from your paycheck into savings as soon as it hits your account. Increase the amount you save as you're able to but be sure to revise your automatic transfer so that saving continues to be automatic and not something you have to think about.
2. Stretch yourself and put more in savings than you think you can.
Although there are people who literally have every penny accounted for and no waste in their budget, there is room for improvement for a lot of us. Think about the amount of money you spend on impulse purchases or Starbucks even when the budget seems tight. Instead of adding the bare minimum to savings each pay period, stretch yourself to add more rather than leaving that money as spending money.
We have banked locally at Wachovia for several years, and their Way2Save account has been an easy way to build our savings. Every time we write a check or make a purchase with our debit card, $1 is transferred to  our savings account. It's really helped us stretch our budget and make saving a priority.
Today, Tara from Deal Seeking Mom is sharing how using coupons can help you build your savings account, which is another great way to stretch your budget to include more savings!
3. Use separate savings accounts for different purposes.
While we've used Wachovia for a long time, we're in the process of switching over to ING Direct as our main bank. There are a lot of things I love about ING, but the best part is the ability to create many different savings accounts with the click of a button. Referred to as sinking funds by Tsh from The Art Of Simple and others, multiple savings accounts let you earmark portions of your savings for specific purposes, such as gifts, vacation, car repairs, etc. so that you have money set aside for these things without risking your emergency fund.
4. Don't touch your emergency fund unless it's an emergency.
If you are committed to building your savings, it's important that you commit to only using earmarked funds for that specific purpose. It's all too easy to deplete a savings account because you're overspending. If you don't think you can take a hands-off approach on your own, keep your checking account at a separate bank so that transfers between the two take more time and energy, making you less like to do it on a whim.
5. Every little bit helps!
Remember, every little bit you put in savings helps, whether it's $1 a week or $500 a month. Create a habit of saving and watch those funds grow. As your income grows, you'll be more likely to increase your savings if you're already in the habit of saving, and watching your account balance increase steadily is great motivation!
Do you have a savings goal in 2010? What's one thing you can do differently this year to increase the amount you save?
The 31 Days of Organizing for a Better 2010 series is sponsored by Get Organized Wizard. Find ready-made action plans, organizers and checklists for more than 200 projects in the  Life & Goal Organizer.