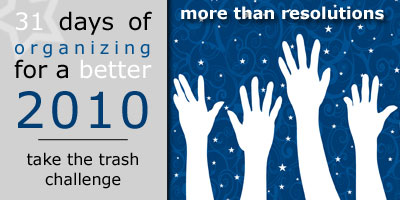 Join us all month for 31 Days of Organizing for a Better 2010!
Last year I introduced The Trash Challenge, my own attempt to be more  aware of what we were throwing away and decrease our amount of trash to one bag per week. However, despite my realization that I needed to finally take the plunge and start composting and use a burn pit for some non-compostables (because I live in the boonies and can do that), I did neither. And because of the mineral content in our water, our cloth diapers have to be hung outside every time in order to prevent stinky diapers, so with a new high-maintenance baby and the freezing temperatures of winter, I've switched back to disposables for now as well. With disposable diapers and food products going into our trash each week, we're back to two to three bags of trash a week, and this year I'd like to focus on making some permanent changes to reduce it to one a week.
The Trash Challenge is obviously not a common resolution, but as many people strive to live more sustainable lives, I think it's worth including anyway. If decreasing the amount of trash your family produces is a goal of yours as well, here are five tips for making it happen in 2010:
1. What's in your trash?
Start by figuring out what you're throwing away each week. I kept a piece of paper by my trash can and wrote down literally every piece of trash we threw away. It was an eye-opening experience and got me really thinking about things I could change. As you write down each item, think about ways to eliminate it altogether. For example, I love Orville Redenbacher's 100-Calorie Kettle Corn packs, but I can make popcorn in a paper lunch bag, which can be reused several times, to eliminate several of those bags each week. Instead of paper napkins or paper towels, we use cloth napkins and kitchen towels for most things, and I'm sure there are other disposables we could replace as well.
2. Get everyone on board.
Because sustainability has become such a popular topic these days, even my kids are aware of the effects of leaving lights on, leaving the water running or littering and will often remind me to turn the faucet off when I'm in the middle of washing dishes or filling a pot. This year I plan to introduce them to The Trash Challenge so that we can look for ways to decrease our trash together. They love to recycle our trash for crafts, so I'm sure they will be excited by the goal. This is one resolution that's hard to achieve if your family isn't on board since it requires effort from everyone, so try to get everyone excited about it!

3. Challenge yourself.
Create a challenge with yourself and the other members of your family each week to see if you can produce less trash than the week before. Competition is a great motivator, and if your kids are participating, you could even offer prizes for the person who comes up with the best ideas for reducing the amount of trash you throw away such as a crown made from recycled materials, maybe, and the title of "Trash Queen" or "Duke of Trash"! Don't let complacency convince you that there's nothing you could do to produce less trash, but really look for ways to stretch and beat your own achievements!
4. Do something today.
This is true for almost any resolution. We can't let procrastination paralyze us from the start or make us give up, or we'll never achieve the changes we want. I am realizing that I need to get my compost bin and/or burnt pit set up now rather than waiting for the perfect time. I'm essentially procrastinating because I'm overwhelmed by the idea of composting (and because I don't want to waste money if I'm not going to do it right!), but I need to just get started and figure it out as I go.
Have you thought about the amount of trash your family produces and ways to decrease it? Do you have any sustainable resolutions this year?
The 31 Days of Organizing for a Better 2010 series is sponsored by Get Organized Wizard. Find ideas, prompts and suggestions to motivate you to change in the Life & Goal Organizer.