Over the last few years, more and more businesses have started going pet-friendly because of the many benefits such a move can bring to their company's bottom line. Put simply, welcoming furry friends and their owners into shops, restaurants, and other types of commercial establishments means capturing the attention of the incredibly lucrative pet parent market. But once these brands have caught their customers' eye with their pet-friendly policies, they'll need to take things a step further to win their trust and, more importantly, their loyalty.
Are you the owner of a pet-friendly establishment, or are you thinking about converting your business into one? Consider taking your relationship with your prospective customers up a notch by giving away custom branded pet products. After all, who wouldn't love to receive a free product that will come in handy for their beloved fur babies? When done correctly, these promotional products can help you raise awareness for your brand and strengthen your business's relationships with your existing customers.
But with so many kinds of pet products on the market, it can be hard to decide which ones would work well as promotional items. If you don't know where to start, read on for four giveaway ideas that are sure to be a hit:
Dog Beds
A comfortable cushion to lie on makes for a satisfied pup and a happy pet owner. Thus, branded wholesale dog beds may be a worthwhile investment for your business to make. Note, however, that dog beds are not a one-size-fits-all affair. You'll have to purchase a few batches that come in various shapes, sizes, and fill materials.
Dog bed sizes are fairly straightforward, generally ranging from small to large to accommodate dogs of different breeds and statures. As for shapes, dog beds come in four main options: square, round, rectangular, and oval. Restedpaws.co.uk has a massive collection of dog beds that range in all types of colours, sizes, and materials. Pups that like to curl up when taking a nap will likely find square and oval beds more comfortable, while those that like to sprawl out will likely take to rectangular and square ones. Lastly, when choosing a fill material for your branded dog beds, always choose ones that are pet-safe and hypoallergenic.
Dog Blankets
During the colder months of the year, pet parents will want a way to keep their precious fur babies warm and cozy. Indeed, certain dog breeds—especially those with thinner coats—will need an extra layer of warmth and protection. That being said, even dogs with thicker coats could use a blanket when the weather gets unbearably cold or if it becomes windy outside.
With that in mind, consider producing branded dog blankets to give away as promotional items. They're light and easy to carry around, so your customers will be more likely to bring these products with them on trips or vacations with their pets in tow. You can even bundle these blankets with your branded dog beds if you so desire. These sets would make great housewarming gifts for the pet owners in your customer base who have recently moved or have just bought their own house. Given that a dog bed and blanket are fixtures in any pet parent's home, your customers are sure to remember your brand and associate it with safety and comfort.
Pet Accessories
Owners like showing off their fur babies on social media, especially on their friends' news feeds. That said, a little fashionable flair on a pet makes for an attractive photo that will garner more likes. 
Help your customers' pets achieve virtual stardom by giving away cute dog hats, bowties, or other accessories. These items can take any pet's style game to the next level. Putting your brand on these accessories will also land your logo on someone's news feed and gather more potential customers at your doorstep.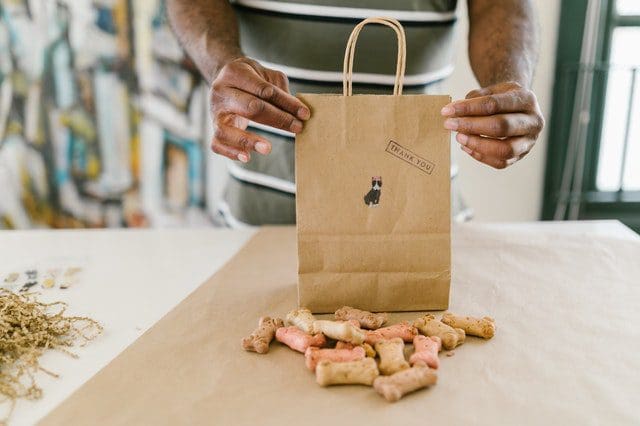 Pet Food
If you're running out of creative ideas for pet-friendly giveaway items, you can never go wrong with free food. Not only can pet parents use a pack of dog treats to spoil their pups, but they can also use these snacks to conduct training sessions with their furry friends.
The best part is that you can order customized dog treats that come in the shape of your brand's logo or mascot. You can even have the name of your business engraved into the snack itself! Take things a step further by printing labels with your business name and logo on your dog treat's packaging. If you want to get even more creative, consider offering a snack pack that comes with an assortment of flavors, and name each flavor based on your brand's general theme.
Welcoming pets to your establishment is just the first step in securing their owners' loyalty. Take things a step further by offering them practical giveaway items like the ones mentioned above. Your business's generosity won't go unnoticed, and you'll be sure to win over customers who will stick with you for life!
Featured Photo by Jojo Yuen (sharemyfoodd) on Unsplash