The following post is from Jessica of GoodCheapEats and LifeasMOM:
Coming off the heels of a month-long pantry challenge, I am reminded of the cost benefits of making the most of what you already have. Throughout the month of January, I shopped my kitchen before going elsewhere. As a result, I was able to shave a good $200 or more off my regular grocery spending.
We still ate well, using what we already had in the kitchen.
One of the ways that I pulled this off was through the creative use of leftovers. Now, for some reason folks get this negative image of leftovers. I suppose it's from the notion that if it had been really tasty, there wouldn't have been any left over.
While this may sometimes be the case, often leftovers are usually just the result of cooking too much or of your diners not having their typically voracious appetites. That being said, sometimes we just don't want to eat the same thing too many nights in a row.
So how can you make the most of leftovers? Let me count the ways:
1. Package them for the freezer.
Perhaps you love the dish you made, but you don't want to have it again tomorrow. No problem. Simply wrap it well for the freezer and serve it on another night when you do have a hankering for that particular dish. You might even consider packing individual servings to use in lunch boxes for work or school.
Consult this list for foods that freeze well.
2. Make a potpie.
Leftover cooked meats, vegetables, and gravy are the perfect makings for a pot pie. Even if you just have one of those items, chances are you can scare up the others from what you already have in your refrigerator or freezer. Whip up a batch of pie crust and roll out a few circles. Depending on how much filling you have, you might even make two pies and freeze one for later.
For a really quick pot pie, fill greased baking dishes with the filling and top with a single top crust. Slice an "X" to allow steam to escape and pop it into a 375 ° oven for 45 minutes or until the crust is browned and the filling bubbles.
If you've got a lot of mashed potatoes leftover, consider preparing a Shepherd's Pie.
3. Make soup.
Soup from leftovers is a time tested tradition. Just make sure that you start with sauteed onions. Add a rich broth. Use leftover cooked meats, beans, vegetables, pasta, or sauces to make something from nothing.
Thursday Night Soup is a great starting point recipe. This Cream of Turkey and Wild Rice Soup is out of this world. Your options are really limitless.
Check out this great tip on how to make the most of little leftovers and make a great-tasting soup.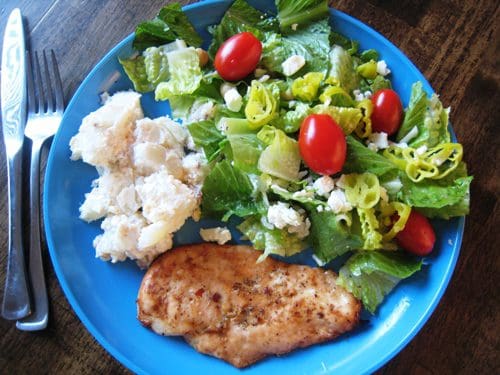 4. Toss a salad.
Cooked potatoes, rice, quinoa, and pasta make hearty bases for any number of cold salads. If you have too much from last night's dinner, transform it into something new.
Leftover corn on the cob can become a tasty corn salad. Grilled or roast chicken combines with mayo and spices for a delicious chicken salad. Add leftover grilled steak to a hearty salad with bleu cheese.
With a little creativity, you can give leftovers new life — without feeling like you were eating "leftovers." Not only will you waste less, but you'll save money in the kitchen. You might even discover a new favorite flavor combination.
How do you give leftovers new life?
A foodie at heart, Jessica Fisher has learned to reconcile a tight budget with her love for great food. As a busy mom of six voracious eaters, she regularly shares healthy, delicious and budget-friendly recipes at GoodCheapEats. She also writes at her parenting blog, LifeasMOM.