The holidays are many people's favorite time of the year. The season means spending time with friends and family, attending parties and events, and sharing general cheer. Another part of the holidays is traveling from one event to another. In many areas of the country, that means driving on roads that could be dangerous. You might need to travel in bad weather. Knowing how to handle holiday driving can help you stay safe. Additionally, you may have questions like, Can you put antifreeze in screenwash? It's important to seek the right information and be prepared for all aspects of holiday driving.
Here are some tips you need for holiday driving.
Allow Plenty of Time
When you're trying to reach a party or someone's home, they probably want to know when to expect you. When you have a target time, be sure not to leave at the last minute.
Allowing extra time gives you the opportunity to drive slower based on weather conditions, be extra cautious of other drivers, and not worry about potential detours or delays. If you're hurrying, you're likely to make poor decisions while driving and may end up in an accident.
Nothing sours the holidays like a car accident!
Have Appropriate Insurance Coverage
Auto insurance is designed to protect you from having serious financial burdens if you get involved in a car accident. However, insurance can only serve that purpose if your limits are appropriate.
You can contact a company like Freeway Insurance to shop around and compare different policies so you can choose a coverage that makes sense for you and your budget. Don't skimp on insurance — otherwise, your holidays may be ruined by a major medical or property damage bill if there's an accident.
If you get a DUI during the holidays reach out to Insurance Navy to find you the right policy.
Never Drive Impaired
Holiday parties often give you the option of drinking alcohol, but it should never result in impaired driving. Even one or two drinks can result in being impaired depending on your tolerance. If you feel "off" or tipsy, don't drive!
The best option if you're going to a party where you plan to drink is to have a designated driver. Plan this in advance, so you aren't making critical decisions under the influence of alcohol. If you don't have an appointed driver, be sure to take a taxi or rideshare back home. It's not worth the risk of losing your license or seriously injuring yourself or someone else.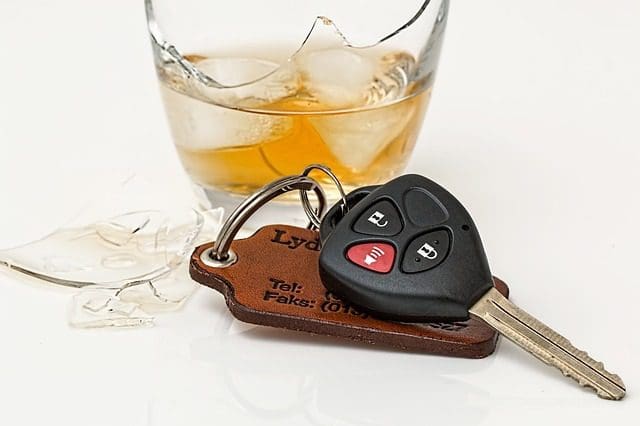 Take Steps to Prevent Car Break-Ins
When you travel during the holidays, you may be bringing along gifts for other people. Unfortunately, that can catch the eyes of thieves who are looking to make a quick buck. Make sure you put valuables in the trunk where they can't be seen and park close to the buildings you're visiting.
Of course, you should always lock your car and avoid leaving valuables in the vehicle any longer than necessary. When you're mindful of the risks during the holidays, you can avoid the heartache of theft.
Enjoy Your Holiday Trips!
The holidays are a fun time for good reason. We enjoy getting together with others and sharing yummy food and gifts. Just be sure you take the steps in this guide to avoid having your holiday season ruined by a car accident, major expenses, or theft.
Have a great season!
Featured Image by Kent DuFault on Pixabay