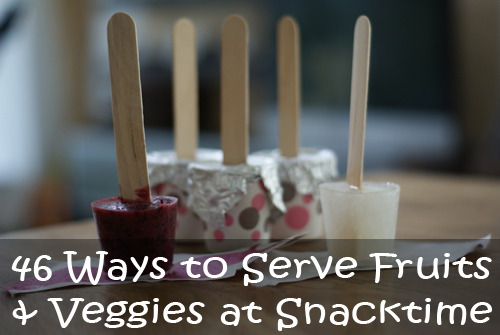 This month's Eat Well, Spend Less theme is the embracing the transition from winter to spring in your kitchen!
For better or worse, snacktime is a big deal in our house, and our girls look forward to their mid-morning and post-quiet time snack every. single. day.
Since we're already preparing three meals a day, delicious homemade snacks are more of a special treat than an everyday occurrence, and we rely on fresh fruit and veggies most of the time instead. (Which often means simply grabbing an apple from the produce drawer.)
That said, I love the idea of making a variety of yummy fruit salads, dips and frozen pops to expand the variety of fruits and veggies they're eating on a daily basis, and below is a list of 46 delicious snack ideas as we head into spring and summer. Some are pure fruit while a few have added sugar; some can be tossed together in a minute or two and others take a little more time but can be made ahead of time. Whichever ones you choose, you're sure to find a few to add to your snack rotation!
Fruit Salad
Dried Fruit & Veggies
Fruit Dips
Veggie Dips
Salsas
Frozen Treats
Smoothies
Eat Well, Spend Less
For more spring food tips, be sure to visit the other Eat Well, Spend Less bloggers:
What's your favorite way to serve fruits or veggies for snacktime?
Featured Image by Couleur from Pixabay