The following post is from Katie of Kitchen Stewardship:
What do you do with all those beautiful Christmas cards when the season is over? How much waste are we generating in our attempts to keep in touch?
Our family has reduced our Christmas card waste by sending photo postcards and an online update, thus doing away with the envelope, paper newsletter, and card. Most people still send a card, and our family certainly enjoys hanging them up as decorations, but when Christmas is over, the stack always intimidates me. It's like junk mail in its depth, but with so much more significance. I feel guilty just recycling them.
Here are five ways for you to deal with your pile without so much remorse:
1. Remember the Givers
After taking the decorations down, I collect all the Christmas cards and photos sent our way in a basket on our kitchen table. Much as we use our Advent wreath and reflections to bring some routine and focus to the dinner hour during December, we pick two cards and pray for the families along with our meal blessing each night in January. It helps our kids get to "know" the people important to us. If you aren't a praying family, it would still be nice to simply "remember" each giver as a family and talk about how you know each other at mealtime.
2. Make a Craft
I probably overdo the saving, but every year after the basket has been completed, I tear off and save the fronts of all the cards worth keeping, recycling the other half. You never know when you're going to stumble across the perfect Christmas card craft online!
Last year my 4-year-old and I practiced some developmental skills – tracing, cutting, gluing, and tying – by making star of Bethlehem ornaments for all the grandparents' trees.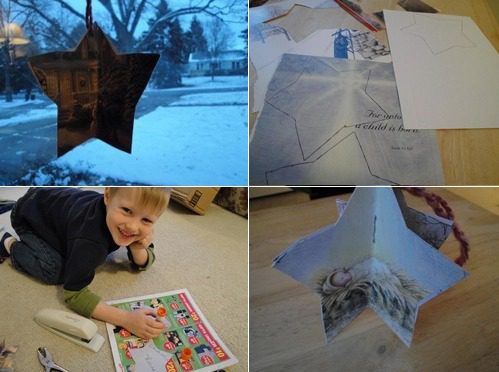 1. Trace a star, freehand or from an appropriate sized cookie cutter, on the front or back of attractive cards.
2. Cut out four of them for each ornament.
3. Glue the back sides together in pairs.
4. Fold in half vertically from the top point.
5. Reopen and lay flat, one of top of the other. Staple along the crease once or twice.
6. Refold outward and punch a hole in the top where you can tie a piece of yarn, string, or pipe cleaner.
Another fun and easy decorative craft is to make a simple chain by stapling strips together into loops. It's a good craft for Thanksgiving weekend, creating a beautiful garland with which to deck the halls, and it can also be used as an Advent calendar – just remove one link each day of Advent.
And if you're feeling especially crafty, you could try this recycled Christmas card wreath.
3. Be Practical: Make Gift Tags
Use those Christmas card fronts to make simple, folded-in-half gift tags for presents.
4. Give the Cards New Life
Send your Christmas cards to St. Jude's Ranch for Children, where they remake cards for all occasions into new cards. The ranch serves "abused, abandoned and neglected children and families" and teaches entrepreneurship through this program.
5. Supplement the Craft Supplies
If you're not going to do anything fancy with your cards, let your kids cut them up to make fun scenes with, or donate them to your local elementary school for the same purpose. They're much glitzier than old magazines!
What to do with Update Letters and Photos?
A bonus tip: If you appreciate history, here's an easy way to keep track of your friends and family. In a big three-ring binder, use top-loading sheet protectors labeled with the year to store Christmas photos, school photos, etc. that you receive in the mail from other people. You can hole punch update letters and keep them as well, as they are a great one-page journal of your loved ones' lives. I also have sheet protectors for birth announcements and wedding invites and programs.
How do you remain conscious of the increased waste during the holidays and do your part to decrease it?
| | |
| --- | --- |
| | Katie Kimball has been "green" since 5th grade when she read 50 Things Kids Can Do to Save the Earth. She remains slightly disappointed that she didn't actually save the whole thing back then, but now that she has 3 kiddos counting on her, she keeps plugging away hopefully. Katie blogs at Kitchen Stewardship about real food and natural living and is the author of Healthy Snacks to Go and other eBooks, available for Kindle. |