Are you thinking about visiting Greece for your next vacation but don't know if you should? Do you want to know why you should be traveling to Greece for your next vacation?
If you are looking for a new travel destination, Greece is the perfect country to explore. This Mediterranean country has much to offer, from its scenic beaches to ancient ruins. If you're still not convinced that Greece should be your next vacation spot, then check out these five reasons why it should be. 
If you're looking for a beautiful destination to explore, Greece offers the perfect place. From the beaches of Mykonos and Santorini to the historic sights of Athens and Rhodes, there's something for everyone. Here are five reasons why traveling to Greece is such a great idea!  
The Possibilities
Greece is known for many things: its delicious food, stunning architecture, and rich history. But what many people don't realize is that Greece is also a great place to travel. There are endless possibilities for things to do and see in this beautiful country. Whether you're interested in ancient ruins, picturesque villages, or amazing beaches, Greece has something for everyone. Some of the ports in Greece have connections to Italy, so it can be a great place to start a European trip. Low-cost ferry tickets to Bari are available at Let's Ferry, and you can click here to discover more. So if you're looking for a vacation destination with lots of options, consider Greece!
The Beaches    
If you are a beach bum and love hanging out by the beach all day, swimming, laying out and tanning, participating in water sports, or beach activities, then Greece is the place for you. Greece is one of the most famous places in the world when it comes to its beaches and what the beaches have to offer. 
While visiting Greece, you cant not visit the beaches. There are plenty of beaches around for those who enjoy all of the fun and activity. For those who like to lay about, you might want to try a beach with cabanas, loungers, and a beach bar set up and ready to go. You have your pick there for those who prefer something more private and secluded. 
The beach options are endless, and they are rated to be some of the best beaches in the entire world. This reason alone is why you should visit Greece for your next vacation.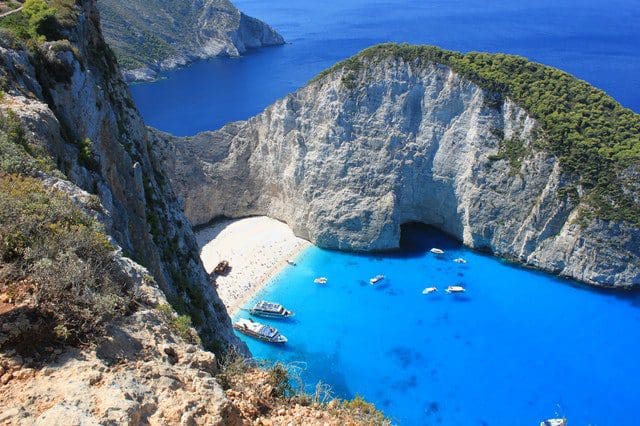 The History  
Greece isn't all about the parties and the beaches. While it is a big summer vacation destination, with all of the incredible events, festivals, and parties, it is so much more than that, and the country itself has plenty to offer. 
Greece is a history buff's dream destination. Here you can learn all sorts of different things, whether its history about the different islands, the mainland, ancient Greece, or just something else. 
There is an abundance of museums all over Greece and the Greek islands just waiting to be explored. Not only this, but Greece has some of the most amazing ancient architecture and magnificent stories to go along with it. 
The Food                           
The Greeks are all about food. When in Greece, you can't just eat a standard pizza or burger. You have to eat like a local. Here in Greece, you will be met with the pleasant smell of Mediterranean food all around. 
There is a big focus on seafood, but there are plenty of other things to go around if this isn't your thing. Fresh seafood is something that the Greeks pride themselves on. While in Greece you can't miss out on having their traditional local food. 
They are flavor explosions in your mouth, and it is not quite like anything you have tasted before. Once you've had a taste, you won't stop eating. 
Tourist Attractions             
Tourist attractions are a big part of Greek tourism and Greek life. whether you visit the ever-popular Acropolis in Athens, the monasteries in Meteora, or even climb the mountain upon which Zeus sat, there is 
There is so much to do in Greece and so many different places. By the time it comes time to leave, you will wish you booked a longer stay so that you could get to do more. 
The Weather and Music 
Last but not least you have the weather and the music. The summertime is the peak of tourism in Greece, and this is when they see the most activity. By day, the sun is blisteringly hot, ready for you to spend the day by the beach and enjoy the outdoors. 
During these summer months, a big tourist attraction is the music festivals. These are often big parties and are very exciting. These festivals go on for days and nights and are something to remember. 
Featured Photo by Alex Azabache from Pexels