When it comes to decorating our girls' spaces — their room, the play area, etc. — my desire is to give them a space that inspires them and puts the focus on their creativity, not the stuff they have.
Although we don't do this perfectly — and I've seen tons of more playful spaces thanks to Pinterest and Houzz — here are a few ways we incorporate whimsy and imagination in their spaces:
1. Choose whimsical pieces for the walls.
One of our favorite ways to inspire the girls imagination is through the way we decorate their room.
They have metal butterflies swooping along one wall and funny little farm animal pictures hanging above their bed. They're just little touches to make them laugh and smile as they play!
2. Display their art.
In the same way, we display generous amounts of their art throughout their room and the loft. Not only does it make it feel like a creative space, but it also makes them proud to see their art on display.
3. Fill the room with books & crafts, not toys.
Most of our toys are kept behind closet doors, not to make them hard to get to but to allow things like books and crafts grab their attention first. We make sure books are accessible and enticing, and their bathroom cabinets are filled with art supplies so they can create whenever they want.
To be clear, it's not that we're against toys altogether (especially open-ended toys that require thought and imagination), but that we want them to be creative and look for ways to explore and discover new things rather than just be entertained by a toy.
4. Let them get creative.
My husband can be pretty picky about the way our house is decorated, but in the girls' room, pretty much anything goes. They once cut out several dozen models they'd designed and colored with their fashion plates to create a garland across the windows, and the door to their bedroom is covered in art and notes. The other night we discovered that they'd created their own winter wonderland on the train table with their play castle and train set.
5. Create secret hideaway spaces within the room.
As funny as it sounds, our oldest daughter went through a phase when she was two years old where she slept in her closet every night. She would take blankets and pillows and stuffed animals in with her (despite the fact that it was not a big closet) and set up camp. It was her own private hide out, and although I did open the door each night to make sure she had plenty of fresh air, we went with it.
Although their closet now doesn't have room for sleepovers, there's nothing like they like more than sleeping in a tent or building a fort. When we finally get the built-in bunkbeds built that we've been dreaming about for years, our plan is to include a curtain on each one and cubbyholes at the foot of their mattress so they can each have their own private space for reading, writing, drawing and imagining.
About Pop & Lolli
Another way to create a space for exploration and imagination is through wall decals, and Pop & Lolli's unique oversized fabric wall decals transform any blank wall into a world of imagination and play. Rich in detail, these decals create the perfect backdrop for all of their imaginative play, anything from a Pirate Boat to a Circus Train and from Fanciful Fishies to Starry Sky Space Rockets!
With vibrant colors, huge designs and reusable/repositionable pieces, these truly become the backdrop and focal point of any room, inspiring kids to play and explore and imagine.
With a former Walt Disney Imagineer at the head of this family-run company, the whimsical and artistic designs are no surprise! Operating out of Los Angeles, CA, Pop & Lolli hopes to have a worldwide impact, not just by ensuring customer satisfaction and selling decals around the world but also through their sister charity, (it's) chic 2 change, which is changing children's lives through their support of a school in South Africa!
In addition, Pop & Lolli's fabric decals are made in the USA and 100% safe for children of all ages. They're made from non toxic materials including polyester fabric and lead-free ink, and the reusable adhesive is water-based to ensure its safety. They're also extremely easy to apply without the detailed instructions and special tools that traditional vinyl decals call for.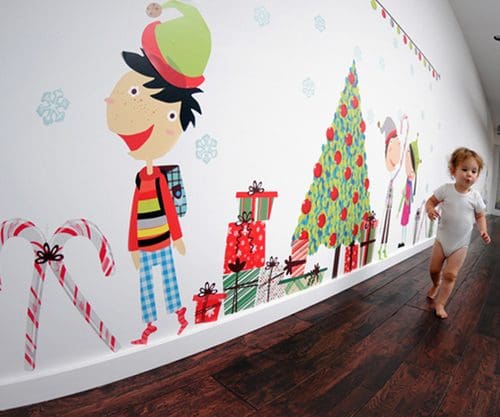 Surprise the special kid(s) in your life with a Pop & Lolli mural this Christmas!
For news, inspiration and special offers like Pop & Lolli on Facebook, sign up for their newsletter or subscribe to their blog!
What elements do you look for when designing your children's bedrooms or play room? How do you incorporate imagination and good design?
This is a sponsored post, but all opinions are 100% mine. How could you not fall in love with these adorable murals?!