An integral part of the global economy, transport has changed considerably over the years. There has been a gradual departure from the traditional fixed routes and service schedules, while there is a noticeable increase in passenger preference for personalization of travel routines and practices. To meet these new needs and demands, a shift in the nature of transportation has become necessary. New technologies and automatization are being adopted, changing the landscape of transport for good.
In recent decades, the industry has responded to the growing demand for higher quality transportation and value-added services by adopting more innovative services. With transport becoming a crucial element of trade, the industry recognizes the importance of innovation, more so now that performance is measured concerning quality and efficient service and the reliability of transit time. Changes in regulations have made it possible for businesses to become more receptive to consumer needs, tailoring services for individual demands.
As we speak, advances in autonomous driving technologies and the global expansion of on-demand ridesharing services are continuing at a steady pace. More companies like Lyft and Uber are presenting convenient and more affordable means of transportation to the world's busiest cities like London, New York, Paris, and China. The following are some of the companies that are helping revolutionize the transport industry. 
US autonomous aircraft developer Astro Aerospace (OTC:ASDN) is one of the frontrunners in the electric vertical takeoff and landing (eVTOL) industry. It aims to create and distribute aircraft that are not only safe and user-friendly but also economical. Astro's prototype, the ELROY, is a two-seater that features state-of-the-art technology and is environmentally efficient. It underwent a successful test flight in 2018, proving its capabilities in the air. 
Once deployed, the ELROY can transport passengers for short-distance flights. In self-flying mode, it will be able to perform all stages of flight. Passengers will only need to input their destination via the touch control system in the aircraft's cockpit. Aside from passenger transport, Astro plans to commercialize its technology to create vehicles for military operations, search and rescue, agricultural and freight transport. 
Grab
One of the leading ride-hailing platforms in Southeast Asia, Grab aims to solve critical transport challenges for more than 600 million people in the region. It has around 700,000 drivers in 40 cities, including Singapore, Thailand, Malaysia, Indonesia, the Philippines, and Vietnam. Though it began as a taxi-hailing app, Grab has expanded its platform to include multiple transport choices, including private cars and bikes.
Grab's services also cover on-demand food and grocery delivery, branching out to other services needed by customers during social distancing measures due to COVID-19. Last year, it extended its services to include digital financial services for merchants. Grab takes pride in having licensed and insured drivers in its fleet. Other benefits of using the platform include easy booking, shorter waiting time, and flat rate fees.
Bolt/Taxify
Bolt, formerly known as Taxify, is a fast-growing transport technology company based in Estonia. Its market includes Europe, the Middle East, and Africa, servicing more than 3 million users in over 20 countries. Bolt aims to provide convenient and reliable rides to passengers in large cities like London and Mexico and small areas like Malta, Budapest, and Baghdad. Aside from car-based rides, it also offers an electric scooter service. 
In 2020, Bolt launched a lower-cost ride-hailing service in South Africa. Bolt Go is about 20% cheaper than regular rides book through the app and is available in large urban areas like Cape Town and secondary provincial towns and cities. The company plans to expand its mobility services in emerging markets soon. Recently, it received $27 million in funding from International Finance Corporation (IFC).
VIA
New York-based company Via is one of the leading on-demand transit systems in the world. It operates in more than 20 countries, including the United States, United Kingdom, Canada, Australia, Germany, and Japan. Via also partners extensively with the largest public transportation providers across the globe, providing accessible, efficient, and cost-effective transit solutions. Depending on the market, the company offers multiple car ride types.
Via is a pioneer in the TransitTech category, helping optimize networks of shuttles, buses, and autonomous vehicles in the countries where it operates. This year, it purchased Remix, a top collaborative mapping platform for transportation planning, to establish a flexible technology platform that will help cities and agencies respond, in real-time, to the changing demands in the transport industry.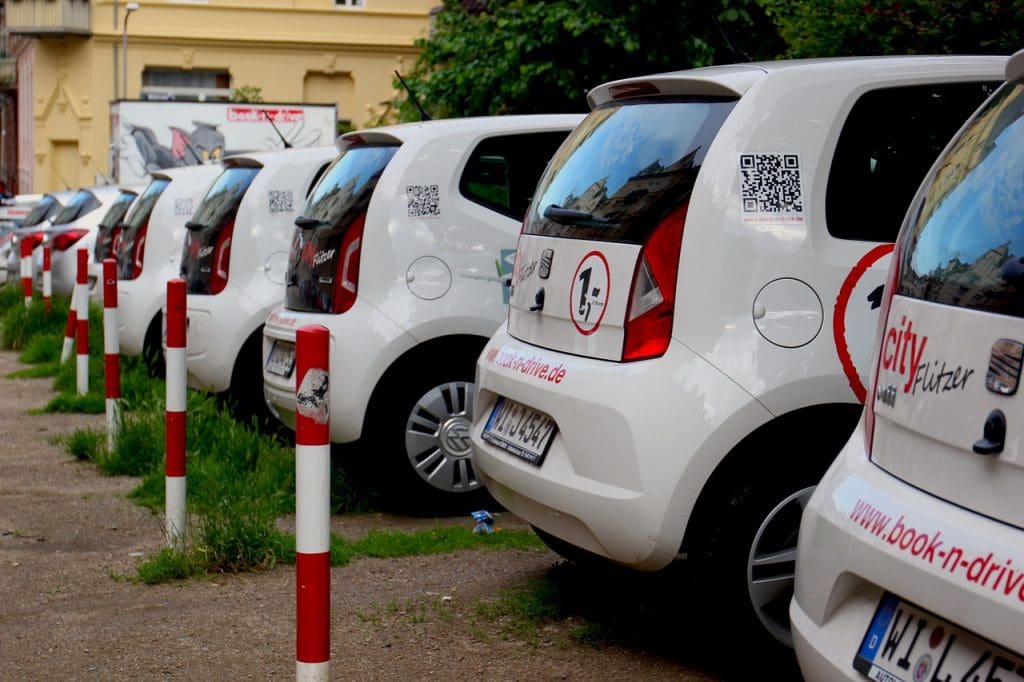 Scoot
Founded in 2011, Scoot Networks is a California-based startup that provides an online network for sharing electric scooters and bikes, which the company owns and maintains. The areas it services include San Francisco Bay Area, Santiago, and Barcelona. Scoot is the first ever to offer electric vehicle rentals using a smartphone app. After a few years in business, it expanded its fleet to include cargo scooters and electric mini-cars. 
Scoot is one of the only two companies granted permits by San Francisco City to operate shared electric scooters in the area. In 2019, it was acquired by rival company Bird. Scoot is now operating as a wholly-owned subsidiary of the Santa Monica-based company. The merger allowed Scoot to offer more advanced vehicles and services for the sharing market and reach more communities.
Drivy/Getaround
With a community of over 2.5 million users, Drivy is one of the leading car-sharing platforms in Europe. Its app allows users to access shared cars in the neighborhood and unlock them using their smartphones, providing fast and cheap car rental service. The cost per ride includes both insurance and road assistance. The platform has over 50,000 cars shared in countries like Germany, Belgium, France, and Spain. 
In 2019, Drivy was acquired by another carsharing pioneer, Getaround, making the latter the leading car-sharing marketplace in the world. The merger allowed both companies to expand their reach, spanning more than 300 cities in North America and Europe, with around five million users. Their shared vision is to provide consumers with a consistent and safe car-sharing experience while reducing car ownership's financial burden.
Featured Photo by Thought Catalog on Unsplash