Every once in a while, it can be a good idea to leave everything behind and take some time off to replenish your energy and motivation. During your time off, you should try to experience new things and go on adventures like road trips where you can explore the world around you and have a good time. If you have a car or have a travel buddy who can drive you around, then you can start planning a fun road trip where you can get away from your mundane routine and visit some great destinations. If you're unsure where to go for your next road trip, here are some interesting destinations that you should consider. 
1. Joshua Tree National Park, California
The great thing about road trips is that they bring you closer to nature and allow you to explore all the beauty around you. One of the most enjoyable trips you can go on is through Joshua Tree National Park in California, where you will be surrounded by panoramic views of desert trees, rocks, and small mountains. The road through this park takes about four hours, but it's likely you won't feel the time pass as you will be so busy taking in all the scenic views around you.
2. Miami to Key West, Florida
People travel to Florida from all over the world for exciting adventures and one-of-a-kind experiences. One of the most interesting things you can do in this fun state, as seen on expertvagabond.com/key-west-things-to-do, is driving around from Miami to Key West, where you will find lots of things to do and see on the way. If you are planning to make your road trip during the spring or the summer, then consider driving in a convertible, so you can fully take in the beauty of the roads and visit nearby national parks. 
3. Blue Ridge Parkway, Virginia
Virginia is one of the most colorful states in the US. Driving around this fascinating state will leave you speechless and wanting more. The Blue Ridge Parkway road will get you across Virginia and into North Carolina, where you can see high mountains and waterfalls across your entire trip. If you are lucky enough, you may even see some rare birds during their immigration seasons and get a few nice pictures. The influence of nature on this particular road may require you to drive a large vehicle like an SUV or a four-wheel drive to get you across the road without any issues. 
4. Red Rock Country, Arizona
If you want to have a cinematic experience on the road where you will be surrounded by true American deserts and views, then the Red Rock Country road across Arizona is the perfect destination for you. This trip may not take too long, but it will surely leave you with a lot of memories from all the beauty you will see around you. The red soil and mountains that cover the entire area are like no other. There are some amusement parks along the road where you can enjoy sliding down water slides that are carved into the red rock mountains. 
5. Outer Banks, North Carolina
Road trips do not always have to be through endless deserts or unscenic routes. Some roads, like that across Outer Banks in North Carolina, have their fair share of beauty and fascinating views by the beach. If you are lucky enough to take this trip during the warmer days of the year, you may get to see the duck beaches and the wildlife sanctuaries that play host to some rare species. 
6. Seattle, Washington to Newport, Oregon
Seattle is one of the most visited cities in the US and is known for its amazing architecture and scenery. People travel from far away to stroll down the unique Washington state city and enjoy some of its delicious seafood. You can experience all that the city has to offer you and then drive down to Oregon state, where you can enjoy the beauty of Newport and its southwest culture. You will get to drive over the infamous Astoria Megler Bridge and enjoy the view over the endless blue waters running underneath.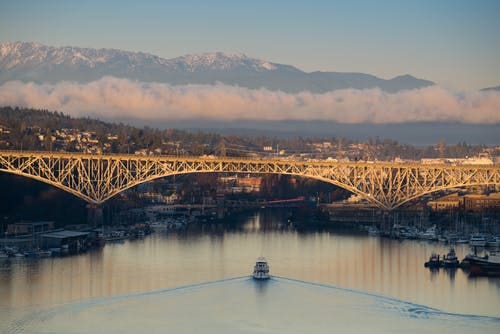 Going on a road trip can be one of the most exciting things to get away from everything and unwind while you visit some interesting destinations. The key is finding the best destination and most scenic route to have a great time during the trip and at your final destination. Make sure you do your research before heading out on the road and see what adventures and places you can visit on your trip, so you can make the most of your time on the road.
Featured Image by Pexels.com