So many of us have spent the past year staring at the walls of our home, appreciating our art and decor, while also wondering when the pandemic would be over. Or, some of us would notice the keen lack of wall art and an intense desire to change things up before losing our minds would overtake us. If this sounds like you, or you're just someone who wants to give an extra shot of life in your house or apartment without spending a ton of money, then this brief primer on how to decorate your walls should help. Tastefully decorating your home shouldn't cost a fortune, and there are definitely budget-friendly options for you to consider.
Streamline the Clutter
Most of us have a particular aesthetic that we grow out of in a few years' time. Maybe that weird print you picked up at a garage sale in the early aughts is no longer your style, and it wouldn't be a bad idea to give it away or just chuck it. The first free thing you can do when considering how to decorate your walls is to properly assess what you already have and how it fits into your current life. Decluttering may very well be the first thing for you to do to help spruce up the space and make it easier for you to figure out what is missing and needs to be added stat. Have one area in the living room that you keep updated according to the season. It may be the area where you usually have your Christmas tree. Plan on a Spring tree with flowers etc. 
Decals Are Not Just for Kids
Anyone growing up in the early or late 1990s remembers those decals or glow-in-the-dark stars we would use to decorate the ceiling. These handy items have grown up quite a bit, and removable or permanent vinyl decorations for the walls are pretty easy to do yourself while also being fairly affordable. You can use them in certain rooms, such as the nursery or kid's room, and add simple, fun splashes of color and cool themes, like a flock of sky blue sheep or a beautiful nightscape motif. You'll find hundreds of styles, some of which are great for youngsters, but others that provide a sophisticated flair with perhaps just enough quirkiness to satisfy the most adult but young at heart amongst us.
Add Mirrors
Adding mirrors to the walls may seem a bit odd, but they can be a lovely way to bring more light into any room. Not to mention, there are all kinds of beautiful frames and styles to choose from, and they tend to come at a fairly affordable cost to decorate your walls. These can be beautiful additions to any wall, especially if you are into the shabby chic or vintage aesthetic. They can also work really well in rooms of varying sizes, so they can make any space seem much larger and brighter.
Repurpose Odds and Ends
If you bought a print magazine at some point, and you're not sure whether or not you should toss it, consider holding onto the issue. If the cover is particularly striking, you can frame it and use it as wall art. This is particularly useful for limited print, unique magazines, or journals in the vein of Interview Magazine or Believer. You can also repurpose things like old record covers, vintage editions of your favorite books, and so on. There are lots of ways to creatively put to use a piece of paper that you love but lying around, requiring more attention.
Don't Forget the Windows
Maybe windows aren't exactly wall space, but they are part of the infrastructure that makes a wall, no? So, find a way to make them the focal point of your room without spending too much. Adding colorful and beautifully designed window film is an excellent touch and can brighten up a room right away. It's also a nice way to dim lighting if the sun is particularly strong in a certain room and gives you privacy without fully blocking out sunlight. Also, fun and quirky curtains are a nice way to brighten up the walls – or even something as classic and understated as simple lace curtains should do the trick. 
Update Fixtures
If your home or apartment came with vintage – yet outdated – fixtures, then it might help to spruce them up a bit. Those fixtures are a lovely addition to the home, but they will probably require an update. Buying some spray paint and affordable refinishing kits should be easy and a fun DIY project for you and your loved ones to undertake.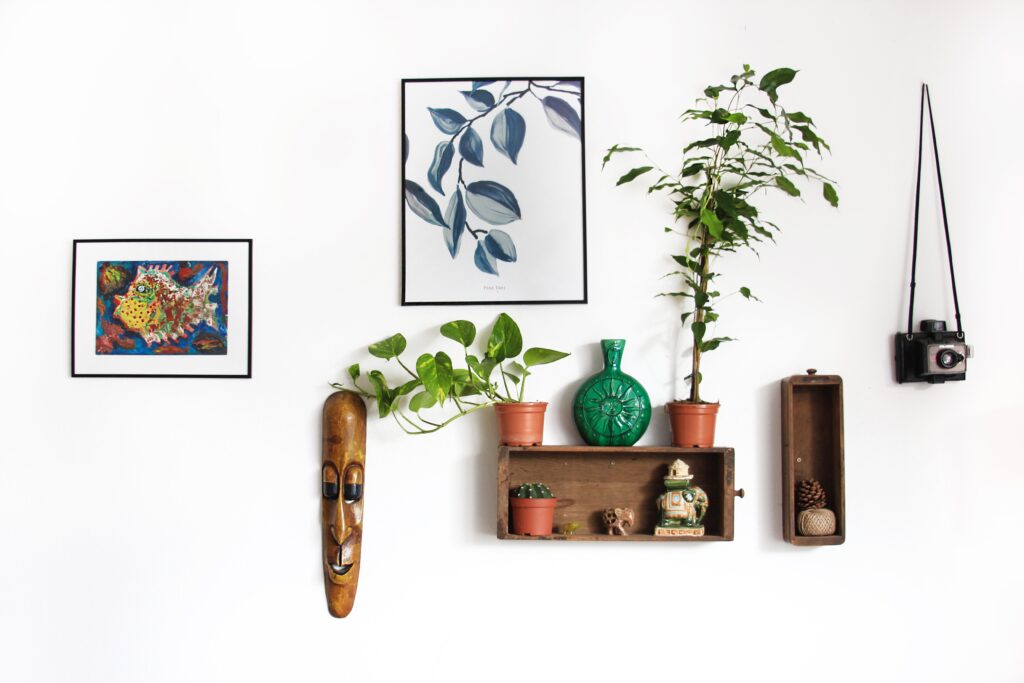 Your home is a reflection of your personality, memories, and history. Therefore, it deserves a bit of TLC. Refreshing the wall decor shouldn't be a painstaking or expensive process. With a bit of care and thinking of creative solutions, you should be able to change up the look of your home in no time and decorate your walls with little cost.
Featured Image by Unsplash.com