Thanks to the internet, millions of people across the US are trying their hand at DIY, with in-depth tutorials and how-to videos helping people learn new skills and complete jobs that were seemingly beyond their abilities. We will look at several DIY remodeling ideas for your next home makeover, helping you save money and hopefully have a bit of fun, resulting in a final product that you can be proud of. 
Why you should consider a DIY Home Makeover
The main reason for attempting a DIY home makeover is the cost or lack of one. You can avoid hiring a professional contractor, with labor costs one of the main factors driving up the cost of a home remodeling project.
In addition to reducing costs, a DIY project is also fun and could involve the whole family. Teaching you and the kids new skills that can serve them well for the rest of their lives. It may help them discover a new passion and a potential career path. 
What are the most expensive rooms in the house to remodel?
Typically, the most expensive room in a house to remodel is the kitchen, followed by the bathroom. Sometimes, rooms focused on entertainment, such as a basement or garage conversion, can also see costs ramp up, depending on how extravagant the room is. 
Even a routine, standard-sized kitchen can cost in the region of $30,000 – $40,000. This is bumped by labor costs, as most renovation work in the kitchen requires a specialist contractor. At the same time, plumbing upgrades, tilework, cabinetry, and new flooring all contribute to significant overall spending. 
15 Simple DIY Home Improvement Ideas
Try reupholstering an old chair, it is probably much easier than you think, and there are many Youtube videos for you to follow to help you along the way. Stopping a chair from going to a landfill by reupholstering the fabric is a satisfying project that also helps the environment.

Give your front door a fresh lick of paint to brighten up the exterior of your home. To improve your home's overall curb appeal and make the door appear brand new, you could opt for a bold color to make your home stand out from the crowd. 
Replace your doorknobs and cabinet handles with more modern or unique ones to give your home more character. All you need is a screwdriver, and the task can be done quickly and easily.

Create a padded window seat using a durable material such as leather for a new, relaxing space to read or browse the web while enjoying the view. You may benefit from having a sewing machine for a high-quality DIY window seat. However, several options are available that do not require any sewing skills. 

Improve your boring, old closet doors by giving them a new paint job or even going one step further and covering them in a stylish fabric or wallpaper. 

Liven up your lampshades using decorative paper, a low-cost option that can turn a plain lamp into something more interesting and personalized.

Create a feature wall using repurposed wood or peel-and-stick faux-brick or stone sheets. You could apply the same technique for a backsplash behind the bathroom sink or, in the kitchen, behind the stove.

Use fabric tape to upgrade your curtains with zero sewing required. Fabric tape is a great hack that can be applied to several accessories and furniture to bring more color to your home and create an overall theme for rooms. 

Remove the doors on the upper cabinets in your kitchen and repaint the inner shelving for a modern touch that allows easy access to items you use regularly. This is a good idea if you have little-used cabinets instead of removing them altogether.
Give furniture a distressed, almost antique look by following an online tutorial. This form of upcycling can prevent older, unwanted furniture from being thrown out, a clever money saver that is simple to achieve.

Paint old jars and plant pots to be used as utensil holders in the kitchen. You could also use them to make your own tea and coffee station or use them for house plants to bring some natural colors to your kitchen or bathroom.

Looking for an easy carpentry task to kill some time this weekend? Then consider building your own bookcase or shelves. Not only the perfect place to store your favorite novels, but a homemade, bespoke bookcase can also be a great decorative piece.

Invest in or build custom shelving to create your own pantry, if space allows. Many modern kitchens favor open shelving instead of numerous cabinets, meaning things can be accessed quickly or provide more space to add accessories or decorative features. 

Build a fire pit in your backyard or garden for a great place to socialize with friends and family. Plenty of materials can be used for such a task, from brick to concrete wall blocks. 

Do you lack sufficient room to have a coffee table and always struggle to place your drink somewhere? Then perhaps make your own wooden couch sleeve, providing a sturdy place to rest your mug of coffee while watching TV.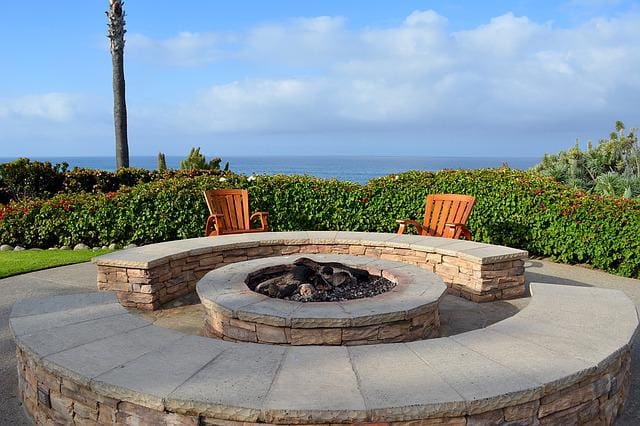 When should you consider hiring a professional contractor?
You should consider hiring a professional remodeling contractor for any task that requires expertise and would be costly to rectify if mistakes are made. Full room remodels, particularly kitchens and bathrooms, will require the services of a contractor and perhaps even a designer. 
If you are based in California, it is recommended to try and use a local company with a reputation for quality and a high level of service. Whether you need San Jose remodeling contractors or Encino construction services, it is important to do your research.
Featured Photo by Annie Gray on Unsplash