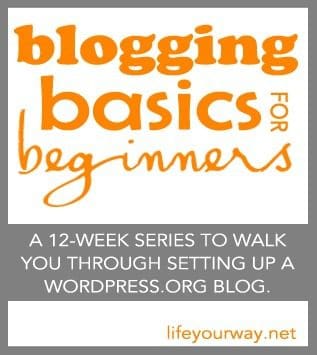 Blogging Basics for Beginners: A 12-Week Series to Walk You Through Setting Up a WordPress.org Blog will run every Thursday from August 30th through November 15th. Click here for all of the posts in the series.
WordPress makes it easy to enhance your blog with the use of plugins. In addition, adding useful information to your blog has been made easier with WordPress through the use of widgets.
Widgets are defined as, "..a fancy word for tools or content that you can add, arrange, and remove from the sidebar(s) of your blog."
Whether it is "fancy" word or not is debatable. What's not debatable is the ease it provides users for adding useful and fun content to their blog. The best part is, many of those widgets are built into WordPress directly.
Previously, when a user wanted to add content to their sidebar, they had to actually manually code the information into the sidebar.php file within WordPress. That is still an option for those who choose to write their own code. However, if your main goal is to write and publish, using widgets is the way to go when adding that content.
When you log into your WordPress dashboard, you are going to click on Appearance and then click on Widgets. On the left hand side of the screen, you will see the built-in widgets that are available for use.
The only thing you have to do is click and drag one of the widgets over the sidebar (or if you want, you can put them in the footer as well). In this case, we'll drag the Search widget and place it underneath the Subscribe/Connect widget.
One of the neat options allows the user to make the title their own. So rather than just the generic "Search", you can draw attention to it by making the title "Find It Here!" or something along those lines.
You can also add the 'recent posts' widget to your sidebar so that readers can from anywhere on the blog get to your most recent blog posts.
There is also room in the footer area for widgets. In this example, I have added another search area to the blog that way if a reader has scrolled to the bottom, they can still search the blog if they need to.
After saving each of the widgets, take a look at your blog page and you'll see the results of the added widgets.
As always, take care to install only those that you really need. A common newbie mistake is to fill the sidebar with as many buttons, flashing lights and features as possible. It's important to evaluate each element and be sure it really enhances your reader's experience rather than just adding clutter to the sidebar.
Next week, we'll talk about basic HTML and how to use the Text/HTML Widgets to add your own custom content!