Barbeque is many people's favorite cuisine. It's easy to make most of the time, and you can buy every ingredient in a local store or supermarket. To prepare an excellent barbeque dish, you don't need to be an experienced chef. It's a great way to spend some time with your family and friends and enjoy preparing a meal together. 
Barbeque is an American pride; we are at the point of organizing battles and feuds about the only right way to season and prepare the meat. But what about other countries? There are plenty of different ways to go about grilling food, all of which are influenced by different cultures and traditions. 
In recent years, Korean BBQ became known all across the US. Now, you can try it in the majority of bigger cities. But what is it all about? Keep on reading to learn about some of the most significant differences between American and Korean ways to go about barbecuing. 
Meat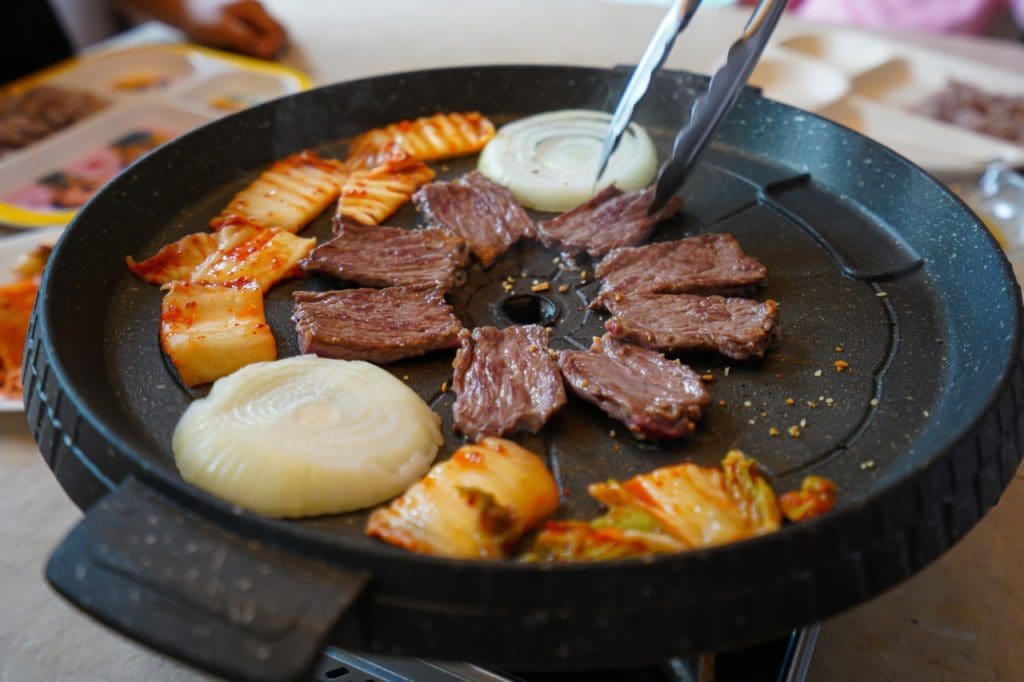 The base for every barbeque is meat. Some kinds of it are used more commonly in America than in Asia. The use of herbs and spices can also depend on the climate in which they are grown. Sometimes, it may vary between regions of the same country, so let's look at both cuisines and the differences in preparation.
American barbeque uses all kinds of large cut pork and ribs. Most of the dishes are slowly roasted or smoked in select grills. It is common for Americans to use the best grill smoker combo to do it all using only one appliance. There are three most popular regional American barbecuing styles.
Texas BBQ uses mostly beef. The parts used are the shoulders and chest. They are very thick and take a long time to prepare. 

Carolina style is based on pork, and putting an entire hog over the fire is quite common. After it is finished, the meat is sliced and chopped. 

The other way of preparing famous pork barbeque – Memphis way – uses pork ribs which are severed dry with sauce.
Korean cuisine is based on the same types of meat, but the similarities end here. Koreans cut the meat in thin strips cooked over a gas grill or charcoal and sometimes fried on a pan. Before cooking, the meat is marinated to grill it fast in front of the customers (or friends). There are no dry rubs, only wet marinates. 
Taste
While American BBQ mostly has a smoky flavor focusing on vinegar-based sauces, Koreans prefer more savory-sweet marinades. The most commonly used ingredients are sesame oil, sugar, soy sauce, garlic, and honey. Like sesame and soy sauce, some of them are unique to Asian cuisine due to their geographical location.
The most important factor is the use of sauces and dips. Usually, one dish is served with a wide variety of sauces, bringing a different, unique taste to every piece.
American meat has a more pungent flavor by itself, so the use of sauces is unnecessary. It is bold and aromatic. Sometimes, the taste of meat grilled in the American way can even get overwhelming!
Side Dishes
The favored Korean side dishes are called banchan. They consist of traditional kimchi, potato salad, fish cake, pickled radishes, and spicy cucumbers. It is, of course, possible to add rice or assorted vegetables, too. The most popular banchan is kimchi. It's made out of vegetables (most commonly cabbage) with garlic, ginger, fish sauce, and chili. The mix is pickled and fermented. It has a complex flavor, typically sour and spicy, but can taste differently, depending on its vegetables.
The dishes are served fresh and cold, in tiny portions, allowing people to try every one of them. It lets you test various combinations throughout the meal, so it is never dull!
American BBQ is very heavily flavored, so it is preferred to add some light side dishes. Spicy ribs will taste fantastic with mashed potatoes, some sweet coleslaw salad, corn on the cob, or a macaroni salad. 
Another recipe to try: Bangers and Savoy Cabbage Mash
In Conclusion
As you can see, Korean and American BBQs are similar only by name. Traditionally, American barbeque is prepared on weekends with family and friends, and it is a big event. Every state has its own unique tradition and celebrates it differently. To make a proper American-style barbecue, you will need more expensive appliances and hard work to prepare the right firepit. 
On the other hand, Korean BBQ is a fast way to make food at any time of the day. It doesn't matter if it's morning, afternoon, or even night. Many people eat Korean BBQ from food trucks, as it is easy to prepare everywhere and you can buy it fast. It's a great way to top off a night out in the city. 
Depending on the experience you are looking for, both cuisines can make for a great experience and a pleasant time with other people. 
Featured Image by yosoo ha on Pixabay