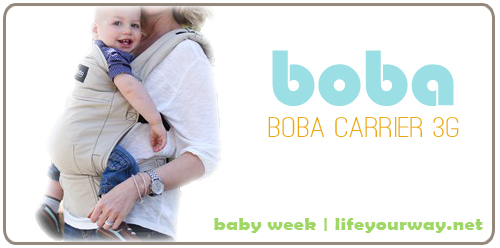 This giveaway is now closed! The winner is Becky ([email protected]…)!
It's Baby Week at Life Your Way, and we're celebrating with 10 amazing giveaways. Come back every day to enter the latest giveaways for your chance to win! Click here for the rest of this week's giveaways.
Boba understands that as a parent you need to be able to move around, and that babies are much happier when they're close to you, and their products are all designed to maximize your freedom as well as the calming and nurturing effects of babywearing.
The Boba baby wrap and baby carrier both offer you the ability to maintain an active lifestyle while keeping your baby and toddler close.
Boba Carrier 3G
The Boba Carrier 3G includes more than a dozen features making this carrier truly one of a kind! Ideal for babies and toddlers alike, it can be converted to a newborn carrier without an infant insert or any additional items and used well into toddlerhood. The ergonomic design, patent-pending foot straps, and multiple adjustments make this carrier the perfect fit for your entire family.
Boba is a soft structured carrier intended for babies and children between 7-45lbs with several innovative features not seen on other carriers:
Foot straps attached to the waist belt keep older children comfortable while enabling a healthy sitting position. The footstraps not only give tired little legs a rest, but support the legs in a flexed abducted (froglike) position which naturally tilts the pelvis, fills out the hip sockets and aligns the spine.
The new infant conversion option allows you to use the Boba Carrier 3G with babies over 7lbs. The best part is that there is absolutely no insert or accessory needed! Simply follow the instruction booklet included with each Boba Carrier to learn how to use the new Boba Carrier 3G with a newborn.
Boba has a few extra inches of height to keep the wearer's center of gravity closer to your body and support little ones' backs. The Boba Carrier 3G is approximately 2-3"  higher than other soft structured carriers.
The new 3G design is made to fit parents of all shapes and sizes without purchasing an extension belt or accessory. All straps are fully adjustable, and elastic bands are provided so you can comfortably tuck the straps away once you have the carrier adjusted for you and your child.
Find demonstration videos and instructions on how to properly use all of Boba's gear on their instructional page.
Follow Boba on Facebook, Twitter, Instagram and Pinterest for babywearing inspiration and more!
Enter to Win
This week, Boba is giving one lucky Life Your Way reader a Boba Carrier 3G!
To enter, fill out the form below:
I received a duplicate prize package in exchange for hosting this giveaway, but all opinions are 100% mine!
The giveaway ends at 11:59 p.m. ET on Friday, 9/20. The winner will be selected randomly and notified by email, and this post will be updated with their name as well. Unfortunately, due to the international laws governing sweepstakes and lotteries, we're only able to offer these giveaways to U.S. residents 18 years and older.