The following post is from Shaina of Food for My Family and Olmanson Photography: Bangers and Savoy Cabbage Mash: Easy Family Meals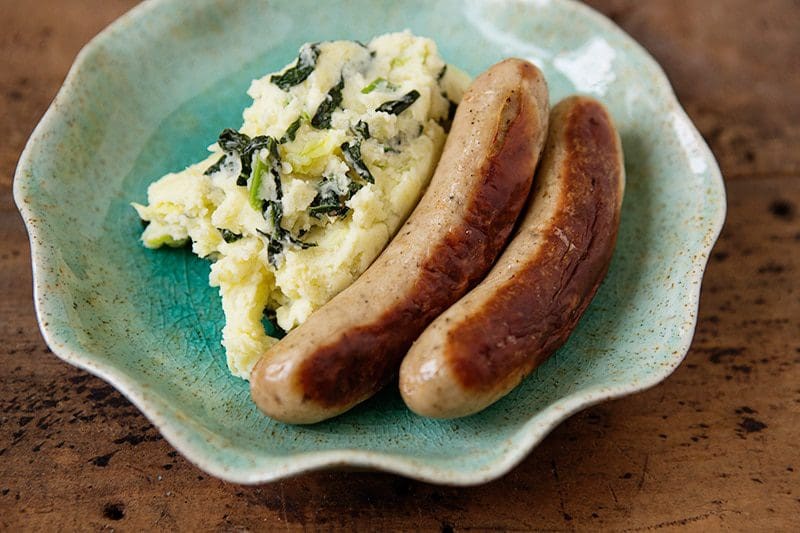 source: Shaina Olmanson | Food for My Family
There are days when I am overly motivated to be in the kitchen, "I have planned to make the cheese from scratch that I intend to use in the dough for the pasta that becomes the meal" days. I'm on top of it. The dishes are done as they are made, and everyone in the house joins in on making the meal. I can hear the buzz in the air of productivity, of stars aligning, and I think, "This is how it should be."
Then there are days when dinner sneaks up on me. My motivation is low; my kitchen is still a mess; breakfast dishes linger in the sink-the egg yolk gluing them together like a sunny yellow epoxy that refuses to be dissuaded by even the hottest tap water. This kind of causes me to burn my hand as I make an attempt. Dinner hovers around like a necessary evil as the kids bicker with each other or complain about homework in the next room.
This meal has become my saving grace on nights like those. The sausages hit the pan, and the potatoes simmer as I try to restore order or tie up the last bits of work that have been left undone as evening descends. It's simple in that it doesn't require babysitting, and the house fills up with the smell of a dinner that my entire family enjoys (usually ending the bickering as stomachs start grumbling instead). Sure, you can make your own sausage (it's a fun project during one of the productive days!), but I suggest making extra and freezing them for the nights like these where you just need to feed the masses and get to the part where your head hits the pillow.
Bangers are a traditional British dish, pub food if you will. These sausages acquired their name during World War II, when cooking them caused tiny explosions in the pan due to their water content, making a banging sound. It's rich, hearty food that sticks to your ribs, but we lighten it up a bit with a head of savoy cabbage for crunch to the potatoes and another side of steamed vegetables to round out a meal. Paired with a pint, it's the kind of meal that welcomes in spring while chasing away winter chills.
Bangers and Savoy Cabbage Mash
Author:
Shaina Olmanson | Food for My Family
Ingredients
6 raw link pork sausages
5-6 potatoes, peeled and roughly chopped
3 tablespoons butter
2 cloves garlic, minced
¼ head savoy cabbage, thinly sliced
¼ cup cream or milk
Salt and pepper
Directions
Place the sausages in a sauté pan over medium-low heat. That's it. No frills. Turn the sausages every 10-15 minutes until all four sides are cooked through. It will take about 40 minutes total for them to be finished.
While the sausages are cooking, place the potatoes in a large pot and cover with water. Add a teaspoon or so of salt. Bring to a boil over high heat and boil until tender, about 20-25 minutes.
Drain the potatoes and set aside. In the same pot the potatoes boiled in, add the butter over medium heat. Stir in the garlic once the butter has melted, and then add in the cabbage. Sauté for 5 minutes.
Add the potatoes back in, mash with enough cream or milk to make them smooth, and season with salt and pepper.
Serve scoops of potatoes topped with bangers for an easy meal.
Notes
Traditional bangers aren't a spicy pork sausage, but a more mellow variety flavored with sage, thyme, nutmeg, and black pepper. It makes leftover sausage easy to add to your breakfast by slicing and tossing in a pan to heat and brown. You could also use a beef Cumberland sausage in place of pork or a non-flavored pork sausage.
What are some of your go-to family meals?
Shaina Olmanson is the freelance writer, photographer, and home cook behind Food for My Family. Cooking daily with and for her four kids and husband, Ole, drives her desire to inspire other families to do the same. Shaina is also the author of Desserts in Jars and regularly contributes to various online sites and traditional print magazines.