The following guest post is from Emily of Random Recycling: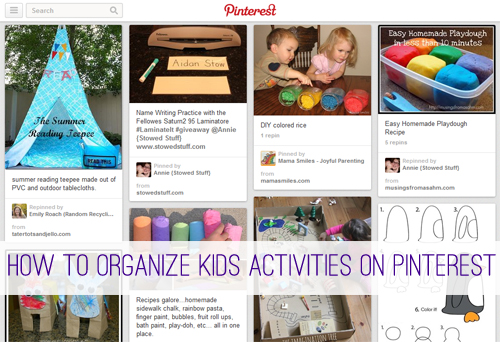 "Can we do this again? I love this!" These were the words my four year old daughter said after playing with a block of ice. In the block of ice were frozen toys, waiting to be rescued by their squirt bottles. An easy, free activity to entertain my four and two year old.
Did I come up with this crafty idea? No, I found it on Pinterest, along with a whole host of other ideas.
If you use Pinterest for organizing recipes or holiday ideas, now is the time to create some boards to help ease those moments when you just don't know what to do to entertain the kids.
There are endless ways to organize your Pinterest boards. Here is a quick list of ideas to get you started:
Age (Baby, toddler, preschool)
Activity (Water play, outdoor play, etc.)
Subject (Literacy, math, science)
Materials (Paper plate projects, yarn crafts, painting)
It won't be helpful to have all the activities on your boards and not in real life, though. I usually take a look at my boards at the beginning of the week to find some doable activities with materials we already have on hand.
I also maintain a Fun Printables board where I can quickly print out coloring pages or a learning activity. This is handy for younger siblings who need to be entertained while their older brother or sister are in a class.
There are a couple great pinners I would recommend to get you started finding activities to save in your arsenal of ideas:
You can also search by category, either Kids or Education are good places to start. If your kids have a specific interest, like pirates in my house lately, you can also find related activities and crafts.
The ice activity turned out to be an awesome idea. Do you have a favorite kids activity you have found on Pinterest?
Emily Roach is the writer behind the blog Random Recycling. It focuses on family nutrition, wholesome recipes and the journey of living an eco-friendly lifestyle. She is a stay-at-home mom to three young children and is most happy in the kitchen or at the beach.