This is a Sponsored post written by me on behalf of Carton Smart for SocialSpark. All opinions are 100% mine.
I love the flavors of Thanksgiving and I love to incorporate things like pumpkin and cranberry into everyday meals during the fall.
One thing that drives me nuts, though, is opening a can of pumpkin to use in a recipe and having to transfer the extra to a separate storage container. It's a small thing, but it feels like such a hassle every time!
So when I was offered the opportunity to try some of Pacific Foods' holiday ingredients packaged in Tetra Pak cartons, the feature I was most excited about was being able to simply reclose the carton to store the extras in the refrigerator. That's perfect for making individual servings of pumpkin pie yogurt, homemade pumpkin spice lattes and a variety of other treats.
But right now, my favorite pumpkin recipe is this one, which we've been making a lot this month:
Dairy-Free Pumpkin Breakfast Cake
Ingredients:
1-1/2 cup coconut sugar
1 cup coconut oil, melted
1 teaspoon vanilla extract
4 eggs
2 cups pumpkin puree
3 cups white whole wheat flour
2 tablespoons pumpkin pie spice
2 teaspoons baking soda
1-1/2 cup raisins
1 cup walnuts, chopped
Directions:
Preheat oven to 400 degrees.
In large bowl, mix coconut sugar, coconut oil, vanilla, eggs and pumpkin together.
In a separate bowl, combine flour, pumpkin pie spice and baking soda.
Combine wet and dry ingredients and stir until just incorporated. Add raisins and walnuts and mix gently.
Pour batter into a 9×13″ pan and bake
Divide batter between two loaf pans, and bake 30-40 minutes, until a toothpick inserted in the center comes out clean.
Cool before serving.
Tetra Pak Cartons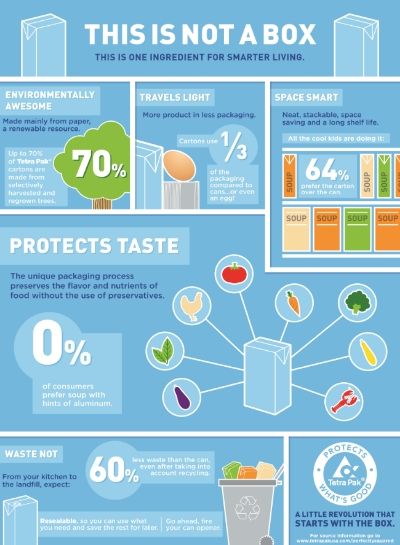 Tetra Pak cartons are a smart addition to your pantry not only because they're a green alternative to traditional canned goods but also because they make life simpler!
Tetra Pak cartons are made of 70% paper, a renewable resource, from selectively harvested, re-grown trees that are FSC-certified (Forest Stewardship Council)
Cartons use 1/3 of the packaging compared to cans…or even an egg!
They're also recycleable and result in 60% less landfill waste than cans
Cartons are space saving, easy to store and open. Keep your pantry neat with these stackable cartons and toss your can openers!
The unique packaging process preserves the flavor and nutrients of food without the use of preservatives.
And, as I mentioned, the cartons are re-closable so you can use what you need and save the rest for later.
Discover a wide variety of stocks, soups, sauces, side dishes and more from Pacific Foods in Tetra Pak containers, including classic and whole berry cranberry sauce (yum!).
Become Carton Smart and share how you're making a difference. For the latest product news, ideas for green living and more Tweet @CartonSmart,or Follow #CartonSmart on Pinterest!
Giveaway: $500 Gift Card + $500 Donation
In the spirit of gift giving this holiday season, Carton Smart is offering one very lucky reader a $500 Visa gift card plus a $500 donation to the charity of their choice.
To enter, leave a comment with your favorite "smart" tip: a recipe that uses ingredients in cartons or entertaining tip that produce great tasting food with little waste!
This giveaway is hosted by IZEA. Click here for the Official Rules.