If you want to make a grand entrance at a party, there's no better way to do it than with a sequin dress. A sequin dress is that extroverted girl who attracts all attention as she enters a room. She will make some noise upon her arrival—and she won't have it any other way!
What makes a sequin dress so, well, loud? It's the fact that it's covered from top to train in sparkles normally reserved for the accessories. Aside from budget-breaking, diamond-encrusted ballgowns, these dresses are the next best thing to torso-sized jewelry. They catch eyes in the same way that sequins catch the light.
So, if you're here, you're probably looking to stand out at a party! We can help you do just that with our list of top recommendations. Shine bright like a sequin in one of these sparkly numbers, and people will be talking about you by the punchbowl.
The Kseniya gown in burgundy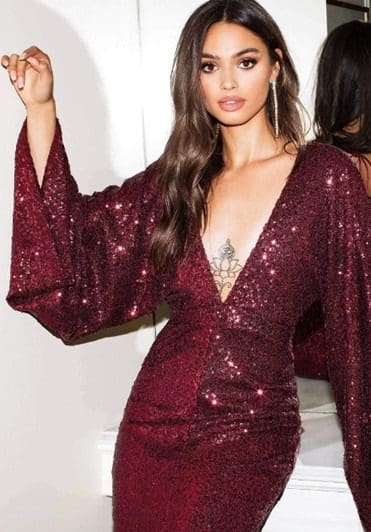 The Kseniya gown is so sparkly that we could end the list here. Every last inch of it is covered in light-catching, eye-catching sequins. Everywhere you turn, this gown will be aglimmer in everyone's eyes. You will radiate the most regal energy.
This gown is great for more formal affairs. If you're headed to a casual house party, perhaps slip on a mini-dress instead. So long as it fits the dress code, this tasteful gown will go down great. It provides full coverage, save for its plunging V-neckline and open back. Combined with its figure-hugging flow to the floor and its slightly-less-than-red burgundy color, this gown is almost colored and shaped like a heart. And people will love you in this luxe, long-sleeved, mermaid-trained masterpiece of a sequinned ensemble. 
Looking for something a little more casual and comfortable? Our custom-tailored fabric with intricate golden koi fish detailing is the show's star for the Haiku dress. Regal and glamorous, this dress features a pleated over-skirt and an extended shoulder line so you can enjoy a sheer sleeve without the standard sleeveless look. You'll love the many ways the removable sash can be styled, and the way the button-up feature enables you to show as much neckline as you're in the mood for. Comes with a waist-tie so you can accentuate that hourglass shape no matter where your waistline falls.
The Vittoria Gown in black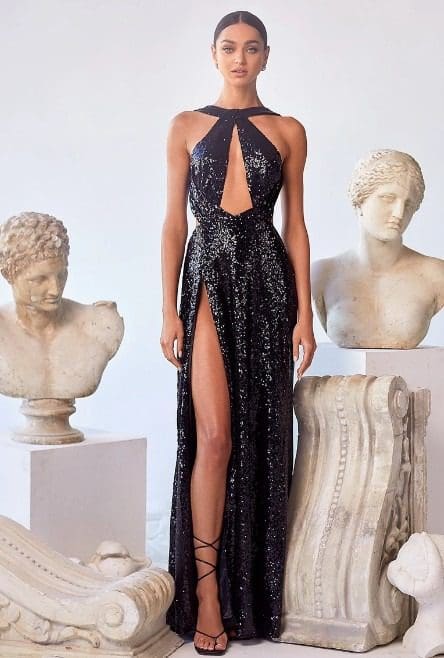 The Vittoria Gown is more black than a black Vittoria coffee. And just like a cuppa joe, this gown is bold and full-bodied. Wear this one, and you'll be one tall glass of long black, indeed. Are we getting notes of sensuality?
The Vittoria Gown takes the little black dress, elongates it, punches out the back (and even some of the front—check out that plunging key-hole neck!), and adds a whole lot of sparkle. If the little black dress channels classic, understated elegance, then the Vittoria Gown pushes the limits of sensuality. With the help of its sequin-covered, satin-lined fabric, this glittery gown will up the 'wow' factor wherever you go. Wear this to a party, and punch won't be the only thing they'll be drinking in.
The Yoven Sequin Gown in rose gold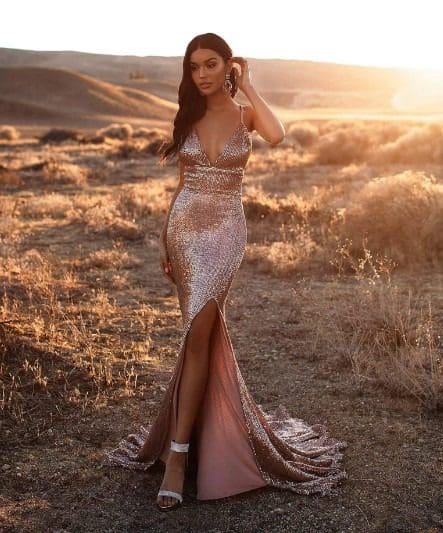 Whatever your opinion of rose gold, we think it's amazing. In fact, if you ask us, this color is a winner because it's oh-so-feminine pink plus shiny. It's like a girl-powered version of the crowned jewels. And we say slay, queen! Slay! 
The Yoven Sequin Gown is the best compromise between stunning and subtle. Sure, you will turn every head in the room—that's a given. But rose gold is one of those soft colors that still emanates majesty. Despite its sparkle, it's still not an overstated beauty. Combined with its form-fitting fall to the floor and its mermaid train, this gown makes its statement in other ways—and seals it with a sparkle.
The Essence Gown in silver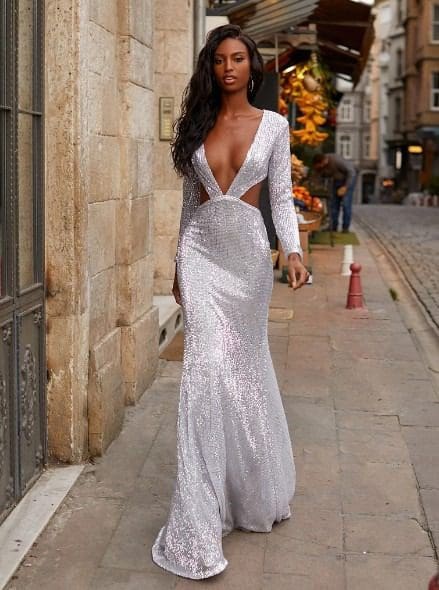 For gals who prefer silver to gold (rose or otherwise), perhaps the Essence Gown will better capture your essence. With its cut-out waist and cutting-it-fine neckline, this gown could out-twinkle the stars—and put a twinkle in your eye. 
This gown is form-fitting yet flowing and trails behind in a marvelous mermaid cut like our other recommendations. It covers everywhere that counts and dares to bare just the right amount of skin. The Essence Gown fits the 'formality' category, but, at its essence, it's a fun party dress. Wear this one to draw attention that will linger.
The Iris Gown in emerald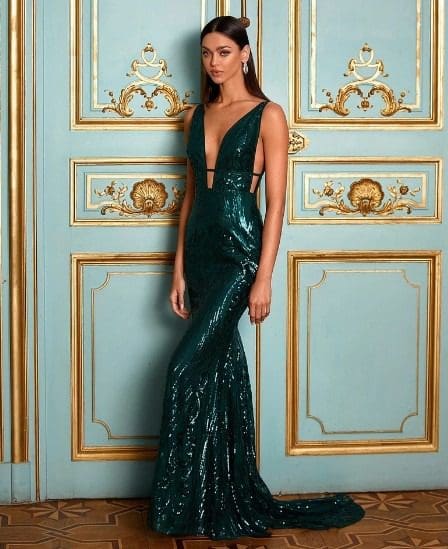 Here's a section of the color wheel we haven't explored: emerald green! And what a fabulous way to explore it, with the Iris Gown. This sequinned sensation has evolved to be so much more than just a glimmer in anyone's eye—green or otherwise. It's a glitter gown with a stealthy use of sequins.
Take a look at this gown. Besides the color, what sets it apart from the others of this curation? It's the patterns. Thus far, sequins have covered all our other recommendations, from their shoulders to their below-the-ankle finishes. This gown, however, uses sequins to create patterns. This doesn't subtract from its sparkle in any way—and it's subtle. Take a good look at the Iris Gown, and you will see its sequins form ornate swirls and symmetrical lines. It adds an air of sophistication fit for any formal event or party.
Sequin up
As you can see, sequin dresses work in any cut, any color, and in any way—whether you want a full ensemble of sequins or just a touch of sparkle. Why do we love sequin dresses so much? They speak to elegance while also turning heads. They're feminine and fabulous, but they can also be daring and sexy. Whatever you're feeling, choose a sequin dress fit for the occasion you're attending. Much as we love mermaid cuts, for example, you can certainly choose something shorter should the dress code call for it. Read the room, read the dress code, and see if you could do the rounds—or dance—in your sequin dress of choice. Choose something that serves the right purpose, as well as yourself!
And, finally, choose something that you love. You may dig neutrals or be a fan of bright colors! Whatever you choose, the sequins will up the sparkle factor by a fair amount, so you can rest assured that you'll be noticed. Remember that these are the loudest dresses of all. The sequins will do almost all of the talking. Feel as fabulous as you will definitely look, and—to mangle the words of Rihanna—shine bright like a sequin!