Today's my 30th birthday! And to celebrate, I've lined up a whole bunch of awesome giveaways just for you! There will be a new one posted each hour between 9 a.m. and 4 p.m. today and they'll be open through Friday, 4/27. Click here to see all of the giveaways.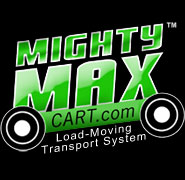 This giveaway is now closed! The winner is Marianna ([email protected]…!
This is my year, I just know it. This is the year that I finally experience gardening success and enjoy an abundance of fresh fruits and veggies from my garden!
A girl can hope, right?
Whether we experience success or not, I'm loving this Mighty Max Utility Cart for easily hauling dirt and plants around our yard, and I'm so excited to be sharing one with you all as well.
This utility cart is useful for more than just your garden, though, with an expandable flatbed, utility tub and cargo walls that allow you to move larger pieces or even create a two-tiered cart.
It's become a popular wagon for our girls as well, who have been pulling each other around the house, curling up in it for a nap or to watch TV or sitting inside it to do school work They're anxious to get it outside now that the rain has cleared so that they can pull things around the yard and give each other rides!
The Mighty Max Cart 800 B can also be used as a sturdy dump truck to haul and dump up to 1/3 cubic yard of loose materials, and it makes moving things easy for everyone in the family. You can also use it as a painting cart at home or to hold your stuff at the beach or while camping!
Get FREE shipping with your order when you use coupon code discountsrule at checkout!
Enter to Win

This week, Mighty Max is giving one lucky Life Your Way reader a Mighty Max Utiltiy Cart!
To enter, tell me how you'd use a utility cart around your home. For bonus entries, like Mighty Max on Facebook and follow @mightymaxcart on Twitter.
This giveaway ends at 11:59 p.m. ET on Friday, 4/27. The winner will be selected randomly and notified by email, and this post will be updated with their name as well. U.S. residents only. I received a duplicate review package in exchange for hosting this giveaway, but all opinions are 100% my own!