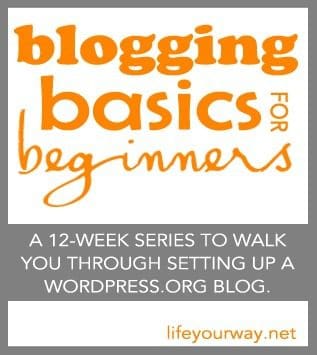 I'm excited to announce a new 12-week series that will run every Thursday from August 30th through November 15th.
I've partnered with James — who contributes regularly to Life Your Way on all things blogging — to bring you Blogging Basics for Beginners: A 12-Week Series to Walk You Through Setting Up a WordPress.org Blog.
Through this series, we'll take you step-by-step through setting up a new blog, from choosing a domain name and setting up WordPress through HTML basics and creating an editorial calendar.
This series is for those of you who want to start a blog but are intimidated by the process, those who are ready to move their blog from WordPress.com or Blogger to self-hosted WordPress and those who already have a blog but still feel like they're floundering.
We'll offer step-by-step tutorials, our thoughts on best practices and tips on what to do as well as what not to do!
Be sure to check back on Thursday, 8/30 for the first post in the series!
Do you have an idea for a blog? What's stopping you from getting started?