As we kick off the new year (although I guess it's not too new anymore…), I wanted to share some book recommendations for your reading list this year. These are books that I've read, are on my to-read list or come highly recommended from others.
Personal finance has been top of mind for many Americans as the economy has struggled over the past few years. While layoffs, inflation and other circumstances may be out of our control, there are things that many of us can do to improve our financial situation and plan for the future. These books offer encouragement for getting out of debt, managing your finances and preparing for the future.

1. Women & Money: Owning the Power to Control Your Destiny | Suze Orman
2. The Super-Charged Guide to Financial Freedom (ebook) | Jeff Nickles
3. The Simple Dollar: How One Man Wiped Out His Debts and Achieved the Life of His Dreams | Trent Hamm
4. Rich Dad, Poor Dad: What the Rich Teach Their Kids About Money–That the Poor and Middle Class Do Not! | Robert Kiyosaki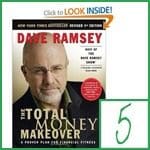 5. The Total Money Makeover: A Proven Plan for Financial Fitness | Dave Ramsey
6. Your Money: The Missing Manual | J.D. Roth
7. The Automatic Millionaire: A Powerful One-Step Plan to Live and Finish Rich | David Bach
8. Money 911: Your Most Pressing Money Questions Answered, Your Money Emergencies Solved | Jean Chatzky
9. The Millionaire Next Door | Thomas Stanley & William Danko
Are there other books you'd add to this list?