This is a Sponsored post written by me on behalf of Buffalo Wild Wings for SocialSpark. All opinions are 100% mine.
Last week we watched the first Redskins preseason game, and my husband could not be happier that football season is finally back!
I don't know about you, but I associate football season with one thing: buffalo wings.
Honestly, I didn't even like buffalo wings until my first pregnancy, when I found myself suddenly craving spicy food, including the messy, sauce-covered chicken. Now I can't get enough of either — wings or spicy foods — which makes BDubs' Bottomless Boneless Lunch even more exciting!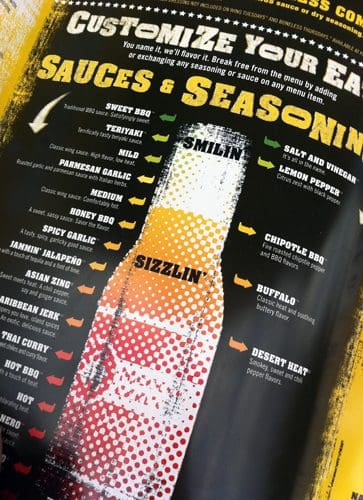 Last week we headed to our local Buffalo Wild Wings for the first time to try their wings for ourselves, and we realized what we'd been missing out on:
Amazing buffalo wings (in boneless and bone-in)
Tons of sauce choices so you can get the flavor you're craving
Inexpensive kids meals, starting at just $2.99 for creamy mac & cheese and fries
Tons of delicious entrée options besides wings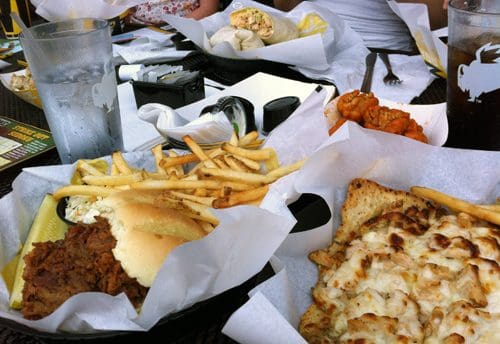 Our table was overflowing with delicious food — mac and cheese for three of my girls, wings for the oldest, Parmesan Garlic chicken flatbread, a pulled pork sandwich with honey BBQ sauce, and a chicken wrap, all of which was amazingly good!
For my Bottomless Boneless Lunch, I started with a traditional medium sauce (I wanted to try Desert Heat, but I think my poor husband was afraid it would send me into pre-term labor, so I humored him!), followed by an order of tasty Parmesan Garlic wings. Unfortunately, that's all I got down before I had to quit, but I would love to take my dad next time and see how many wings he can eat (this is the man who has gotten kicked out of all-you-can-eat restaurants more than once; his metabolism works overtime!).
Special Promotions
Buffalo Wild Wings wants to help you get ready for football season by helping with your next lunch party — at home, the office, or BDubs itself — with a variety of promotions, including Bottomless Boneless Lunch, Wing Tuesday, Boneless Thursday, and Game Changer beer!
Follow Buffalo Wild Wings on Twitter and Like Buffalo Wild Wings on Facebook to hear about their latest menu items, promotions, contests, and more!