This bread pudding was one of my PawPaw's favorites, and my grandmother recently sent me her recipe so I could share it with you!
Serve bread pudding at a Christmas brunch, after decorating your tree or while cuddling up to watch a Christmas movie together. It can be served hot or cold, making it a versatile comfort food that can easily become of your holiday traditions.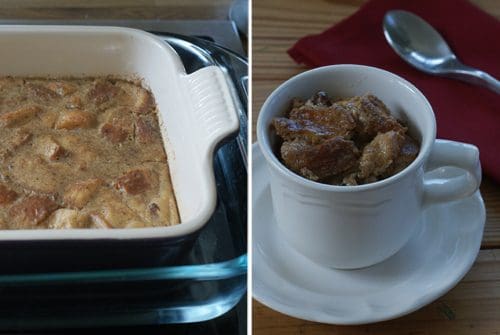 Ingredients:
5 slices bread
2 cups milk
1/2 cup butter
1/2 cup sugar
1/4 teaspoon salt
1 teaspoon cinnamon
1/2 cup raisins
2 eggs beaten
Directions:
Tear bread into small pieces and add to a 9-inch baking dish.
In a small saucepan, scald milk and butter (essentially, bring it almost to a boil, stirring constantly to prevent a skin from forming on the top)
Pour this mixture over bread pieces. Stir in sugar, salt, cinnamon, raisins and eggs.
Place baking dish in a deep pan with 1 inch of hot water.
Bake at 350 degrees for 45 minutes.
Click here to add this recipe to your Plan to Eat account.
Related Projects:
Join us as we celebrate 101 Days of Christmas with new DIY projects, gift ideas, traditions and more every day from now through Christmas!