The following post is from Selena Moffitt of 1 Mom's Mission: Busy Mom's Guide to Easy Recycling
You are about to toss that juice box in the trash and you stop to think, can I recycle that? How about the straw — can it go curbside? You have a 3-minute conversation with yourself over 1 piece of garbage. Do this over and over all day as you struggle with what is trash vs. recyclable, and it can make a busy mom insane!
Just think about all the things we throw out in a day –  Ziploc bags, juice boxes, saran wrap, wrappers, straws, lids, caps, and the list goes on and on.
We know that we should recycle, but the task just adds to our ever-growing list of to-dos.
However, the recycling process doesn't have to be that hard. A little education, a few well-placed bins, and you are ready to do YOUR part in nurturing our planet.
Getting Started
Gather up the following materials to create your simple recycling centers. Get your kids to help.
1. Bins or tubs: Ikea has some great ones that are tall and slender and fit under the kitchen sink very well. I also shopped at thrift stores and dollar stores to acquire baskets.
2. Permanent Marker or labels: so everyone knows what the bins are for.  No fun trying to dig out garbage from your recycling bin!
3. List of curbside recyclables and other recyclables
Where to Put Your Bins
The Kitchen: Two bins here — "Curbside'' and "Other" (three, if you label your trash)
The Office: Two bins here  — "Shred" and "Paper"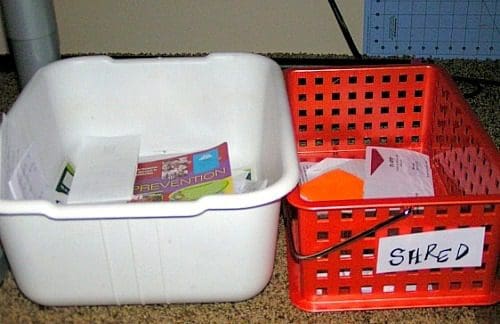 The Laundry Room: My laundry room is upstairs, so anytime I cut a tag off of new clothing or replace batteries in a toy, I put them in this bin.  That way I am not tempted to just throw it out.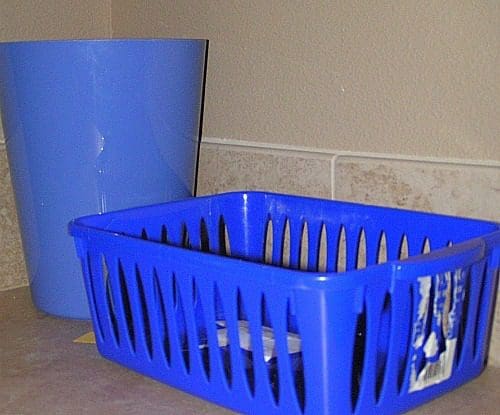 The Garage or Shop: Again, to prevent you from throwing stuff in the garbage.
When you clean out your car, which if you are a busy mom like me, is not often enough **wink**, it's a quick toss into the recycling bin for coffee cup lids and paper products!
A Few More Tips
Most waste management systems give you the option to have recycling bins.  In Portland, Oregon, we are allotted one for glass and one for all other curbside recyclables.
But if you are going to be hardcore and collect the hard-to-recycle stuff, another bin or two in the garage is key.
Our Recycling System
Plastic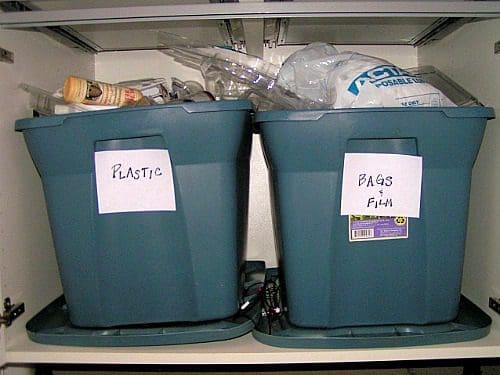 Batteries – No picture b/c my husband has it at work!
Styrofoam
Daunting?  I hope not.
Inspiring?  That's the idea!
Do it as a family. It's a cheap thrill for the kiddos to stick labels to buckets…trust me. However, you may have to straighten the labels a bit — my boys can't read yet!
Go forth and go green!
Motivate change, invigorate people, and radiate joy every day.
How do you set up your recycling?
Selena is a mom on a mission to make our world a better place, one person at a time. Her blog 1momsmission aims to motivate change, invigorate people, and radiate joy! She blogs about the craziness of Momhood and how small shifts in our day-to-day can make an impact on the world around us.