The following post is from Katie of Kitchen Stewardship: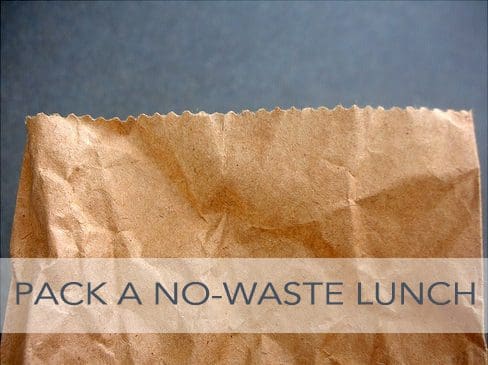 Billions of plastic baggies, over a billion pounds of trash, and countless fields of food are tossed into elementary and high school wastebaskets in America each year. Americans pitch 2.5 million plastic bottles
every hour
.
1
Clearly no one is going to suggest that we're a very "green" nation with such practices. But we're getting better at it. Low-waste and waste-free lunch packing is thankfully becoming more mainstream in America.
There are so many ways to reduce our waste as we eat our sack lunches.
Step one: change up the sack. No more brown bags!
Here are some unique and innovative ways you can put a new twist on the old "Reduce, Reuse, Recycle" when you're brown baggin' it without the paper bag.
Reduce
1. Pack only what you will eat. Cutting back a little may not only help the waste, but the waist!
2. Don't buy single serving snacks, yogurt or applesauce. The packaging is such a waste of both money and resources, and you can make a huge difference just by divvying up your own larger portions.
3. Put like items together. Whether you're throwing away the packaging or washing a dish, there are savings there!
Reuse
1. If you use plastic baggies, reuse them as many times as you can. When packing dry munchies in particular, just refill with the same or similar the next day.
2. Reuse plastic packaging. When the bread is gone, a sandwich can go in the empty bread bag for a few days. Same goes for bags of nuts, and even cereal and cracker inserts.
3. Try reusable bags for sandwiches and snacks. I reviewed four brands here.
4. Don't buy single serving snacks, yogurt, or applesauce. (Have I mentioned that one already? It's kind of an important green step.) Make your own, or at least purchase the largest size you can find and dole it out into bags, or small glass or stainless steel containers for transport.
5. Bring a reusable bottle instead of buying single serve beverages.
6. Use a napkin until it's shreddy, or even try cloth. I was amazed at how easily we integrated cloth napkins into our lives.
7. No disposable plastic silverware, okay? Train your kiddos to take care of their supplies and bring everything home that isn't eaten. If they don't throw anything at all away, your forks won't be swimming in the kindergarten classroom garbage can.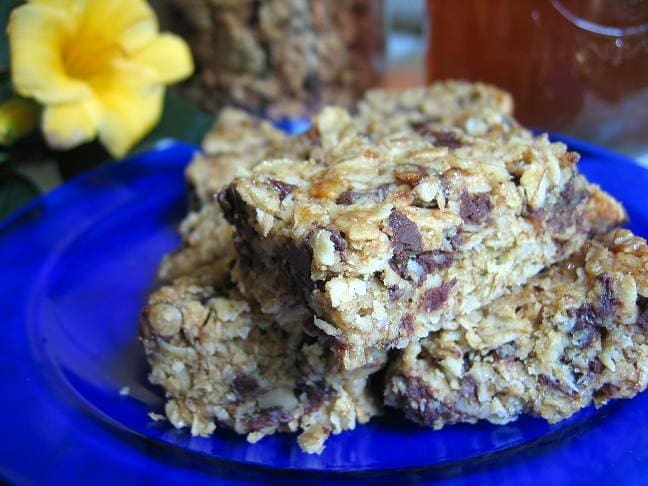 Recycle
It's almost a step down from the other two categories to talk "recycling" last, but that's how the jingle goes, so I'm stuck. I highly recommend going "no-waste" instead of "low-waste," but if you have to dispose of something, try to plan ahead so that you can recycle your remains. A few suggestions:
1. Try Terracycle if you're stuck with a foil packet drink package (ugh). They also accept some candy wrappers, plastic zipper bags, corks, and a variety of other trash. Your school can even earn money collecting! Read more about Terracycle here.
2. Some single yogurts come in number 6 plastic, which is rarely if ever accepted for recycling (plus, it contains big-time BPA!). Avoid those and find number 5 polypropylene, which is fairly easy to recycle.
3. If you must use plastic baggies (and sometimes, don't we all?) try hard to rinse and recycle them after you've reused as much as possible (they're number 4). However, it costs 125 times more to recycle plastic than can be made by selling it2, so it's really important to simply buy and use less of the stuff.
4. Include lunchtime waste in your family's compost pile. This is where the guideline, "If it doesn't get eaten, it comes home," comes in really handy again.
The final frontier of traveling with food is to go "no waste," and even "no plastic" altogether. You can find 100% organic cloth snack bags and sandwich wraps, lunchboxes with built-in compartments, and many completely stainless steel containers and water bottles.
I've been challenging myself to pack lunches that yield less and less waste all the time. Will you join me? Make it a family contest and keep track for one week on a chart in the kitchen. Which kid can help mom pack a lunch with the least waste? How low can you go?
Sources: 1, 2
Other resources:
How much waste do you think your family produces each week with school lunches? How have you reduced the waste?
| | |
| --- | --- |
| | Katie Kimball is a mom of two who spends a ton of time in the kitchen making real food with whole ingredients and then blogs about her successes and failures at Kitchen Stewardship. She believes everything in life is a gift from God and should be taken care of wisely. |