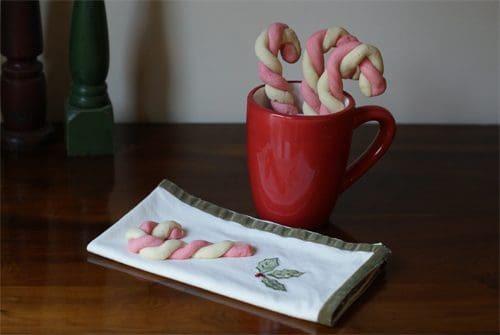 If I could only choose one tradition or one cookie to bake, this would be it!
You see, for the longest time, I had this vague memory of delicious candy cane cookies that my mom used to make when I was little. I could almost taste the cookies, but I couldn't find the recipe.
A few years ago, I finally thought to do a Google search for one, and since then, I've tested quite a few versions of this, combining them and making adjustments until I found the perfect one. The key is the almond extract, which gives them their unique flavor, and although some people use peppermint extract instead (which probably makes sense given that they're shaped like candy canes), it's the almond flavor that I love!
Now, my mom and I make these together each year. They're fun to make and even more fun to eat!
Ingredients for Candy Cane Cookies
2 1⁄2 cups all-purpose flour
1⁄4 teaspoon salt
1 cup unsalted butter, softened
1 cup confectioners sugar
1 egg
1 teaspoon vanilla extract
1 1⁄2 teaspoon almond extract
1⁄2 teaspoon red liquid food coloring
Directions:
Preheat the oven to 375 degrees F.
Whisk flour and salt together.
In a separate bowl, cream butter and sugar. Beat in egg, vanilla extract, and almond extract. Slowly add flour mixture, scraping the sides of the bowl as necessary.
Divide the dough in half and add the food coloring to half, mixing well.
Pinch off a small ball of dough from each color and roll them each out into a 4-5″ long rope. Set the ropes side by side and carefully twist them together, bending one end to form the hook of the candy cane.
Place on a cookie sheet and bake for 8-10 minutes until they are just starting to brown. Let the Candy Cane Cookies cool on a cookie sheet, and then store them in an airtight container.
Click here to add this recipe to your Plan to Eat account.
Honey-sweetened Coconut Macaroons
Join us as we celebrate 101 Days of Christmas with new DIY projects, gift ideas, traditions, and more every day from now through Christmas!