The following post is from Shaina of Food for My Family and Olmanson Photography: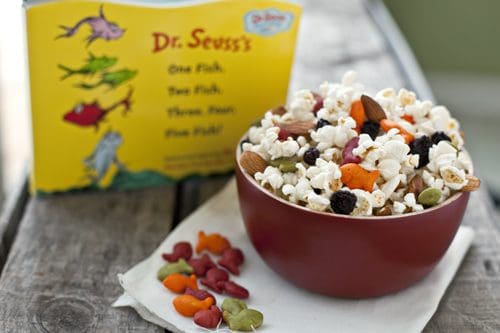 Today, March 2nd, is Dr. Seuss's birthday. Theodor Geisel, best known as the rhyming and riddling as Dr. Seuss who brought us The Cat in the Hat, How the Grinch Stole Christmas and Horton Hears a Who, would have turned 107 today. I say celebrate with a bit of fun and whimsy that Dr. Seuss himself would be proud of.
Put on your gown with the dots that are pink, white and red, curl up with a stack of your favorite books in your bed and grab a few snacks from the Nupboards in the Cupboards while you read. If you're a fan of the movies, make cupcakes "out of anything!" with the Kupkake-Inator and the Cat in the Hat for dessert to your green eggs and ham.
One fish, Two fish, Red fish, Blue fish,
Black fish, Blue fish, Old fish, New fish.
This one has a little car.
This one has a little star.
Say! What a lot of fish there are.
This popcorn snack mix is easy to throw together for an afternoon of reading with the kids or for a movie night with your favorite Dr. Seuss characters. A bit of sweet and salty and full of fun, colorful fish to count along with the book.
One Fish Two Fish Popcorn Snack Mix
10 cups popped popcorn (air or stove popped)
2 cups Goldfish Colors Rainbow Crackers
1/2 cup roasted almonds
2 tablespoons butter
1/4 teaspoon sea salt
2 tablespoons grated Parmesan cheese
1/2 cup dried blueberries and cranberries
Mix together popcorn, Goldfish Crackers and almonds. In a small saucepan, melt butter. Drizzle over warm popcorn mix. Toss to coat.
Sprinkle sea salt and Parmesan cheese over the mix and toss again. Stir in dried fruit. Serve immediately or store in an airtight container until ready to serve.
Makes 13 cups snack mix.
More ways to celebrate Dr. Seuss' birthday:
:: Green Eggs and Ham Crepes
:: Thing 1 and Thing 2 Cupcakes
:: Cat in the Hat Marshmallow Pops
:: Butter Battle Compound Butters
:: Schlopp with a Cherry on Top
:: Inedible Oobleck
What's your favorite Dr. Seuss book? I personally have a soft spot for The Cat in the Hat and Green Eggs and Ham.
| | |
| --- | --- |
| | Shaina Olmanson is the freelance writer, photographer, and home cook behind Food for My Family. Cooking daily with and for her four kids and husband, Ole, drives her desire to inspire other families to do the same. Shaina is also the author of Desserts in Jars and contributes regularly to a variety of online sites and traditional print magazines. |