This is a Sponsored post written by me on behalf of White Cloud for SocialSpark. All opinions are 100% mine.
Four years ago, our family walked through a truly terrifying experience. Just a few days before Christmas, our third daughter — who was 15 months old at the time — began to develop unexplainable bruises all over her body, including a huge, ugly bruise on her face after bumping it on the kitchen table.
At first, we debated whether these were normal "toddler bruises" or the sign of something more serious, but it quickly became obvious that it was not normal, and in addition to heavy bruising, she also developed petichiae on her legs.
Our immediate fear was some type of leukemia.
We made an appointment at our doctor's office, and the pediatrician we saw that day (who we'd never seen before but who has since become precious to our family) immediately sent us to the hospital for blood tests, with STAT written across our order.
As I carried our daughter through the hospital, my heart raced.
We sat through a rather painful blood draw and then headed back to the pediatrician's office — well after regular office hours — to wait.
Despite the panic of those few hours, the answer that came back was perhaps the best one we could have hoped for but hadn't ever heard of before that moment. Our doctor described a blood disorder called idiopathic thrombocytopenic purpura (ITP), which literally means an unexplained drop in your platelet count. The numbers from the hospital showed that her platelets were somewhere around 12,000 per liter, less than 10% of what you'd find in a healthy person.
Our pediatrician scheduled an appointment for us at Children's National Medical Center, a Children's Miracle Network Hospital, for the next morning to discuss treatment options, and we headed to my parent's house for the night so that they could accompany us the next day.
While I am beyond thankful for the quality of care offered by our local hospital, we were truly blown away by every aspect of our visit to Children's. The bright colored walls, the toys and gifts, the play areas and — most importantly to us at the time — the painless blood draws all made a terrifying experience a lot less traumatic.
Thankfully, her ITP required no treatment, and while we worried about her head banging habit for a few months afterwards because of the potential for internal bleeding, her platelets quickly recovered and within about 4 months she had surpassed the normal, healthy levels that we were anxiously watching for.
Because of that experience, Children's Miracle Network has become one of our family's favorite charities, and we are so thankful for the work they do to help children's hospitals provide treatment and comfort to children across the country.
White Cloud & Children's Miracle Network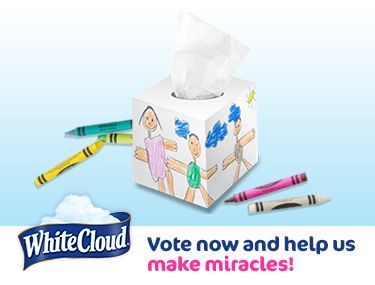 This month, White Cloud has partnered with Children's Miracle Network, asking kids from member hospitals to put their creativity and imaginations to work to illustrate a template for a new White Cloud Facial Tissue box design!
The designs have been collected and narrowed down to the top 10 finalists, and fans can now vote for their favorite designs, 3 of which will be chosen and printed on special edition White Cloud Facial Tissue boxes to be exclusively sold in Walmart stores starting in May. Find a store near you!
In addition, White Cloud will make a generous donation to each of the CMN hospitals that submitted the winning designs.
There's also a chance for you to win! Vote for your favorite design and be entered to win one of three $25 Walmart gift cards or a one-year supply of White Cloud products.
Log on to the Voting App today and vote for your favorite design to "make miracles happen"!
Abbreviated Contest Rules: No purchase necessary. Void where prohibited. The Children's Miracle Network Contest and Sweepstakes are sponsored by Kruger Products (USA), Inc. The Contest is open to legal residents of the 50 United States and the District of Columbia, between the ages of 4 and 14, who are eligible patients at one of the 168 participating Children's Miracle Network Hospitals. The entry period for the Contest begins on November 29, 2012 and ends on December 28, 2012. The Voter Sweepstakes is open to legal residents of the 50 United States and the District of Columbia, 18 years of age or older. The Voter Sweepstakes begin at 6:00 p.m.ET on January 3, 2013 and end at 11:59 p.m. ET on January 30, 2013. For official rules, visit the contest site.