Chocolate-covered treats are some of my favorite Christmas gifts, not only because I love to eat them myself, but also because they make an impressive presentation when they're actually simple enough to make with your kids!
A couple of years ago, I took a small basket of chocolate-covered pretzels and fresh fruit to our favorite pediatrician, who had walked through a pretty tough time with us after our third daughter was diagnosed with ITP, a potentially serious blood disorder. I was so thankful for the support she had given us during that time, and a little Christmas basket seemed like the least I could do to show her our appreciation.
To this day, she still talks about those chocolate-covered pretzels, even though I've assured her that they are the absolute simplest thing to make. I haven't yet revealed to her that I am truly a kitchen dunce and that if I can make them, anyone can, but it's true!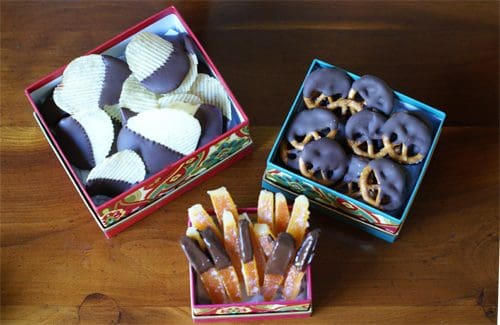 Ignore the glossy chocolate on the orange peels…I was too impatient to wait for it to dry before taking this picture!
Ingredients:
1 pound semi-sweet Baker's chocolate
4 cups potato chips
4 cups pretzels
sprinkles, white chocolate for drizzling, etc, optional
Directions:
Follow the directions on the back of the box to melt your Baker's chocolate in the microwave or on the stove top. Be careful not to get any water in the melted chocolate because it can cause it to get gritty and rough.
Lay out sheets of wax paper for your dipped treats.
Carefully dip half of each chip or pretzel into the chocolate, allowing the extra to drip off before moving it to the wax paper. Set your dipped treats on the furthest corner of the wax paper, moving toward you as you go, so that you don't drip chocolate on those that are already done.
If you're going to decorate them with sprinkles, white chocolate or another candy, do that periodically before the chocolate hardens rather than waiting until you're done.
Of course, pretzels and chips aren't the only think you can dip in chocolate. There's also marshmallows, candied orange peel (more on those later in the series), candy canes, popcorn, nuts…the sky's the limit!
Click here to add this recipe to your Plan to Eat account.
Join us as we celebrate 101 Days of Christmas with new DIY projects, gift ideas, traditions and more every day from now through Christmas!