The following post is from Kristina of Toddler Approved:
During the holidays we like to do at least one simple Christmas craft or activity every day. One of my favorite open-ended activities for kids is painting with cookie cutters. Last year we shared how we used cookie cutters to make gift wrap.
This year I am sharing how we use cookie cutters and paint to make simple gift tags or cards to accompany neighbor and friend gifts.
Supplies:
cardstock (white and colored)
washable paint
palette (paper plates)
holiday cookie cutters
markers
embellishments (stickers, sequins, glitter, etc)
glue/tape
Directions:
Start by covering each plate with a single color of paint and then cut the cardstock into smaller tag sized pieces. If I want my kids to do the writing on the tags, then I make them bigger than if I were going to do the writing.
Have each child choose a cookie cutter and paint color to start with, give them a few tags, and let them get started painting. Some kids enjoy covering the entire paper with cookie cutter prints while others will just want to do one cookie cutter print per tag.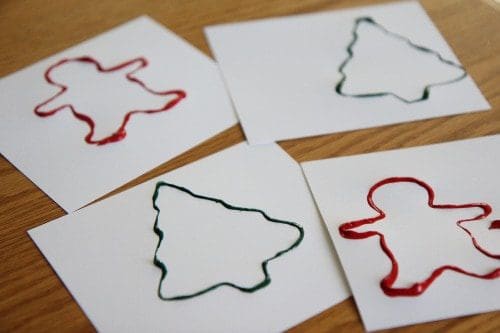 Once the prints are done, let them dry and then you can make them into tags.
We sometimes also like to mount each print onto a different colored paper using glue or tape and then add embellishments and designs with marker and crayon onto the tags to finish them off.
Once the tags are decorated, we write names and/or notes on them, add them to a plate of treats or a small gift and drop them off for friends or neighbors!
source: Kristina Buskirk
Not only is this a fun Christmas activity, but it also gets the kids in the spirit of giving as they brainstorm gifts to bring to neighbors and friends along with their cute homemade gift tags.
Have you made homemade gift tags before? What are some other techniques you have used to make them?
Related Projects:
Join us as we celebrate 101 Days of Christmas with new DIY projects, gift ideas, traditions and more every day from now through Christmas!
Kristina Buskirk is a mom of 3 and a former Special Ed teacher for children with communication disabilities. She blogs at Toddler Approved as she looks for ways to make life a little more fun and creative with her kids while embedding learning into everything that she does.