I still love the feel of real magazines, and I'm always looking for ways to reuse them so that I don't have to feel bad about my guilty pleasure! Most of the time I end up just passing them on to friends or letting the girls use them to create collages, but there are a ton of creative crafts beyond simple collages:

1. Gift Bows | Whole Living
2. Magazine Jewelry | Craft Stylish
3. Paper Doll House | See the Woods and the Trees
4. Magazine Bowl | A Little Hut
5. DIY Glass Magnets | Kelly Hicks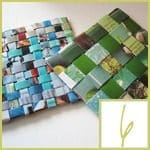 6. Recycled Magazine Coasters | How About Orange
7. Recycled Magazine Garbage Can | DIY Life
8. National Geographic Magazine Shelf | Inhabitat
9. Recycled Magazine Beads | Instructables
What do you do with old magazines?