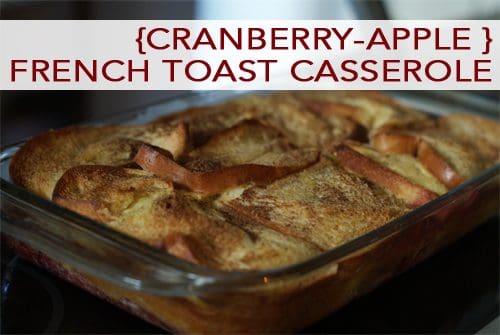 On Christmas Eve, I always prepare two dishes for the morning: a sausage-egg casserole and a french toast casserole. I love being able to get up and just pop breakfast in the oven so that we can enjoy a yummy meal without a lot of work!
This year, I think we'll switch things up a bit with this cranberry-apple french toast, which is absolutely delicious! I love cranberries, so I always have a few bags in my freezer in the fall and winter, and their tartness is the perfect complement to this dish.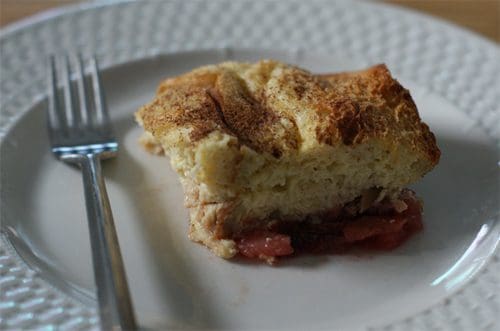 Ingredients:
1-1/2 cups fresh or frozen cranberries
1/4 cup water
1/4 cup sugar
3 granny smith apples, cored and thinly sliced
1-1/2 teaspoons cinnamon
1 french or italian loaf, cut in 1″ slices
8 eggs
2 cups milk
1/2 cup heavy cream
1 tablespoon vanilla extract
cinnamon
Directions:
In a medium saucepan, combine cranberries, water and sugar. Layer apples on top of cranberries and sprinkle with cinnamon. Cover and cook over medium-low for 15 minutes. Uncover and continue cooking for 5 minutes to allow sauce to thicken.
Stir cranberry-apple filling and transfer to a 9″x13″ dish. Arrange bread slices in two layers over the filling.
In a bowl, combine eggs, milk, cream and vanilla. Slowly pour over bread so that it doesn't splash or spill. Sprinkle generously with cinnamon.
Cover and refrigerate overnight.
When ready to serve, bake at 350 degrees for 50 minutes. The top should be nice and crispy, while the inside will have more of a bread pudding consistency. Slice and serve!
Related Projects:
Join us as we celebrate 101 Days of Christmas with new DIY projects, gift ideas, traditions and more every day from now through Christmas!