'Tis the season for photo gifts!
I love photo gifts for our parents and grandparents, but I've honestly never put together a photo book before because I find the process of selecting photos, choosing layouts and adding captions a bit overwhelming and tedious.
That's where the My Kodak Moments app on Facebook comes in. This handy little app simplifies the whole process for you, making it easy to select photos right from your Facebook albums (with no wait time while they upload!) and then automatically inserts the photos and captions in your book for you! And it literally takes just a few minutes.
The best part is that while the process is automated, there are still quite a few options available so you can move pictures around, edit captions, change the book's theme, add additional pages, etc. to make sure your book looks exactly like you want it to.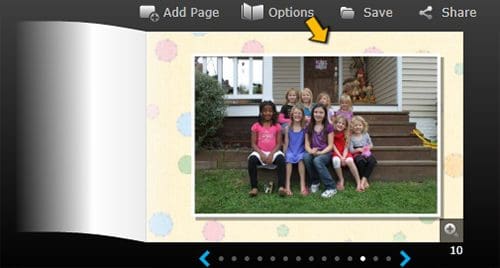 I decided to try it out by making our oldest daughter a little flip book of pictures from her 9th birthday party earlier this fall, which I plan to put in her stocking. Because we only do friend parties every few years, this was a really exciting day for her, and I know she's going to love flipping through the pictures!
The FREE My Kodak Moments Facebook App makes photo books super simple:
Pictures are organized in the app, just like they are on Facebook so it's easy to find.
Facebook photo captions are included in the photo book – making it fast to "tell your story"
Kodak's Smart Fit Technology automatically places your pictures in your book in seconds. From there you simply organize them in whatever order you want.
It's Kodak quality – so your book looks amazing. Nothing like the blurred, dull-colored ones I've tried at online sites.
Then the books are shipped to your house or available for pickup at your local Target.
And, of course, it's not just useful for holiday gifts. Catch up on your scrapbooking, create your holiday cards or get prints of your favorite right from the app!
This is a sponsored post on behalf of Kodak, but all opinions are 100% mine!