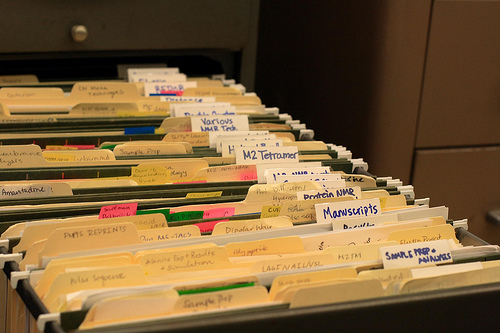 As I mentioned yesterday, file systems are actually my organizing passion (all of you who are organizing junkies like me are nodding your heads, appreciating that I have a passion for this, and the rest of you are shaking your heads wondering if I'm nuts…am I right?).
I realize it's kind of a mundane thing to be passionate about, but I love the feeling of taking piles of unorganized paper and creating a pretty, easy-to-use file system. I've done some consulting for businesses and individuals to help them create file systems to meet their needs, and there's nothing better than looking at the finished files and seeing what a huge difference getting organized has made!
Of course, being able to quickly access and find important documents yourself is not the only reason to get organized. While it's not the most glamorous reason for getting organized, it is important to consider how easily someone else might be able to make sense of all of your files if you were to pass away. Having organized files makes that heartbreaking task just a tiny bit easier by eliminating the frustration of not being able to find what they need.
Before we get started talking about what I believe are the key ingredients for a file system that works, let's start with some basic questions:
What's in Your Files?
Are your records mostly long-term documents such as mortgage information, rent agreements, etc., or do you have regular daily/weekly/monthly records to add as well?

Do you have business papers to file? Homeschooling records? Other categories of paperwork?

What records are you currently saving that maybe you don't need to? Could you switch to electronic statements for any of your accounts?
Keeping Privacy and Safety in Mind
Do you have important documents such as birth certificates that should be kept in a fireproof box?

Do any of your records need to be locked up to keep curious eyes away?

Who needs access to your files? Do you need separate areas that different people can access?
Considering Space Constraints
How much space do you have for your files?

Is your file cabinet stuffed full?

Can you pull out records from past years and store them somewhere else instead of keeping them in your main file area?

Would scanning your paperwork and keeping it on the computer rather than in hard copy be worth your time and effort?

Which records do you tend to refer to most often that you need to keep easily accessible?
Thinking through these questions before we start organizing our file cabinets (and yes, mine needs a makeover too!) will help us create a system that will work for us by making our records easy to find and access.