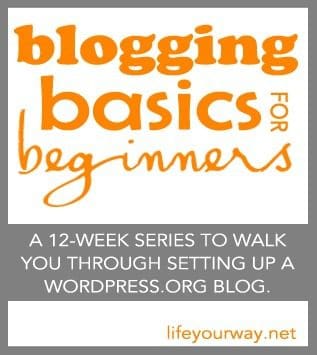 Blogging Basics for Beginners: A 12-Week Series to Walk You Through Setting Up a WordPress.org Blog will run every Thursday from August 30th through November 15th. Click here for all of the posts in the series.
As I mentioned last week, pages are a great way to provide content on your blog that you don't necessarily want to show up as a dated blog post or be sent out to subscribers.
Today, let's take a look at some of the most common types of pages:
About Page
An about page is arguably the most important page on your blog. It tells readers who you are and what your blog is about and also gives you a chance to showcase your voice and style of writing.
Many visitors — including myself — visit the about page whenever they stumble across a new blog, so it's especially important that you keep this page up to date and invest the time to make it a good reflection of your blog. You might tell your story, share links to your most popular posts or topics, include pictures of your family or showcase your humor.
Contact Page
Another page that's especially important is a contact page. Readers, companies and other bloggers need a way to reach out to you with questions, encouragement and various opportunities.
Your contact page can include your email address and/or a contact form created by a plugin such as Contact Form 7.
I personally prefer a combination of both options because I hate to send messages through a contact form (mostly because you can't format, add hyperlinks, etc), and I want to provide a way for readers who feel the same way to get in touch with me. That said, my contact form actually broke a few months ago, and I haven't taken the time to fix it yet!
Disclosures and Privacy Policy
You could probably get away with not thinking about these next two page types for a while, but I think it's a good idea to have them on your blog from the start, even if you have to change them over time as your site grows.
A disclosure page tells readers if and how you earn money from your blog. Although the law actually requires that you disclose all paid or affiliate links, it's also a good idea to be transparent about how you earn money so that your readers know that they can trust the things you say.
In addition, a privacy policy tells readers what information you collect and whether you serve any cookies. If you use a tracking service like Google Analytics, you are actually collecting information that needs to be disclosed in a privacy policy. In addition, if you serve any network ads, they likely serve tracking cookies to your readers. And finally, it's a good idea to explicitly state that you comply with the Children's Online Privacy Protection Act (COPPA).
Like your about page, you'll want to keep these pages updated as your site grows and your methods of monetization change!
Do you read other bloggers' about pages? What's your favorite feature of an about page?