I know piggy banks are traditionally for kids, but when I was growing up, my grandparents had an old 5-gallon water jug that was their official "retiring to Florida" fund. We'd all add coins whenever we had them and eventually they did retire to Florida (although I'm thinking it took a bit more than what they'd accumulated in the jug)!
I'd love to get my girls cute little piggy banks for their room, but I have a feeling they would just end up broken, so for now they use decorated tin cans instead. But if you're looking for a real piggy bank, here are some of my favorite styles:

1. Schylling Rubber Piggy Bank from Amazon.com, $10.59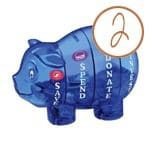 2. Money Savvy Pig from Amazon.com, $16.99
3. Princess Castle Piggy Bank from For That Occasion, $24.95
4. Circo Dog Bank from Target, $12.99
5. Pink and Green Polka Dot Piggy Bank with Bow from Amazon.com, $26.95
6. Chocolate Piggy Bank from Babysakes.com, $28.95
7. Melissa & Doug Design Your Own Piggy Bank from Amazon.com, $5.92
8. Little Slugger Piggy Bank from For That Occasion, $21.95
9. FAO Schwarz Silver Piggy Bank from Amazon
Do your kids have piggy banks? Do you?