For the next month, we'll be spring cleaning the easy way with our Spring Cleaning Made Easy series! The goal is to get the whole house clean — one mini task at a time — without having to set aside a whole week, or even a whole day, to clean.
Today we're going to take some time to clear out some clutter so that we can spend more time cleaning and less time dealing with stuff as we go through the various rooms in our home.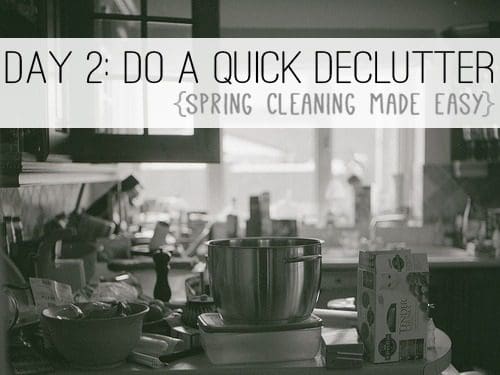 This is important: Today's task is to do a quick declutter. You're not emptying closets or drawers or decluttering every nook and cranny in your home, just breezing through with a couple boxes or bags and clearing the surfaces that you can deal with quickly.
To start, grab at least two boxes or bags — one for trash, one to give away (or sell).
Start in the main area of your home and put any trash you find in your trashbag. Then, evaluate the things that are covering shelves, tables and counters. Put away the things you want to keep and add the rest to your giveaway box. These could be books, toys, knick knacks — whatever you're willing to part with!
Continue this same process in each room until all of the surfaces are cleared.
If you have trouble making decisions about what to give away, ask yourself these 10 questions to help you declutter. You could also set a goal to fill one box (or three!) with stuff to keep you motivated as you go.
I was serious when I said this is a quick declutter. If you try to declutter it all, you're going to run out of steam before we even start cleaning. For today, don't open any drawers or closets. Just clean off the surfaces and spaces you can see when you walk into a room. But clearing the surfaces now means you'll have less to deal with each day as we start deep cleaning, so don't skip this step either!
Track your progress this month with the Spring Cleaning Made Easy checklist, which comes in two versions — one with dates to coincide with the live series and one with generic labels so you can do it on your own at another time. Click here to download or print your copy!
Want to get a jump start on tomorrow's task? We'll be cleaning out the refrigerator and freezer.

Do you like decluttering, or is this a painful task for you?