This month we're spring cleaning the easy way with our Spring Cleaning Made Easy series! The goal is to get the whole house clean — one mini task at a time — without having to set aside a whole week, or even a whole day, to clean.
One of my favorite parts about welcoming spring is being able to pack away all the extra stuff that comes with winter. At this point, I'm tired of blankets on the couch, a space heater in the bedroom, a front closet packed full of winter clothes and random gloves and scarves that seem to end up spread across the house! Cleaning the front closet is one of my favorite tasks because it doesn't take a lot of time and it feels so much better once its done!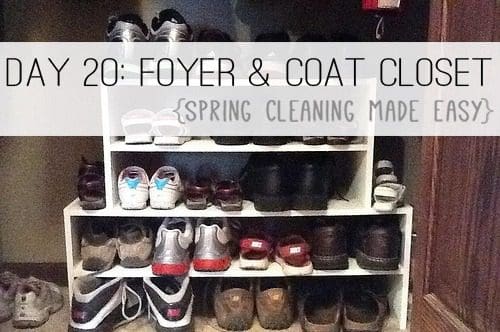 We have a fairly large front closet where all of our coats, shoes, bags, seasonal gear get stored, so my method for cleaning out the front closet is to pull everything out and spread it across the foyer and then begin putting things back in order of importance.
Shoes
With 6 people in our family, shoes can quickly overrun the closet, so we limit the girls to 3-4 pairs each (for spring/summer: a nice pair of sandals, a pair of casual flats and 2 pairs of flip flops) — which is still a lot of shoes — and I keep mine in my bedroom wardrobe. Right now we've got a mixture of spring and winter shoes in the closet, so my first order of business is to pack up the winter shoes.
If you don't have a big closet, you could use a nice shoe rack, a bench with built-in storage or cube-shaped baskets to store these things in your foyer. Shoes and coats don't necessarily have to be hidden away as long as they're kept neat and everything has a place.
Snow Clothes
We're thankfully ready to pack up snow clothes as well, so the next step is to wash the jackets and snow pants (and any scarves and gloves that need it) and then pack those away in a plastic bin. We actually keep a bin of summer gear  and a bin of winter gear in our closet all year long, but I'll move the summer gear to the top so it's easier to get to our towels, swim gear, etc.
Bags/Purses
One of the areas where I struggle with minimalism is with bags and purses. I love cute bags, and although I have a lot fewer bags than I have in the past, I find that I still need to declutter those when I clean out the closet (especially since my mom is generous with her hand-me-downs!). We keep a variety of tote bags on the shelf in our closet to use for trips to the library, taking snacks to the park, etc., but they tend to get messy over time, so it's good to reorganize them.
Miscellanea
The thing about the front closet is it becomes home to a variety of random items over time — random toys, items that need to be returned, sweatshirts that never make it to the laundry room. Now is a good time to find permanent homes for all of those things.
Although I've accepted that the closet will have to be cleaned out every few months, one way we keep it neater longer is by dealing with the stuff we bring in from the car as soon as we get home. I empty the trash and random junk from my purse, have the girls empty their backpacks and put their shoes away, and we work together to find homes for anything else we brought it. We're not 100% consistent about doing this, especially after a long day, but we try to make it a priority because it doesn't get easier to go back to it the longer you wait, and once it's done, it's done!
Track your progress this month with the Spring Cleaning Made Easy checklist, which comes in two versions — one with dates to coincide with the live series and one with generic labels so you can do it on your own at another time. Click here to download or print your copy!
Tomorrow's a rest or catch up day — enjoy your Sunday!

How big is your front closet? What's the most random thing you found in your closet?